Panzer General
DOS game, 1994
Genre:

Year:

Developer:

Publisher:

Perspective:

Theme: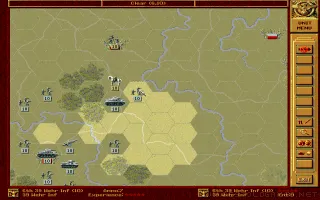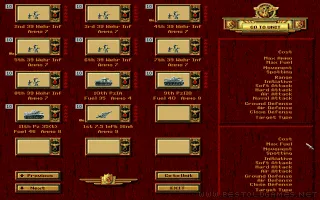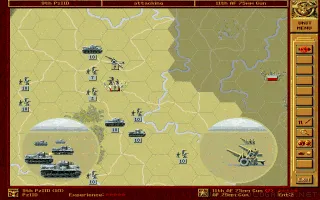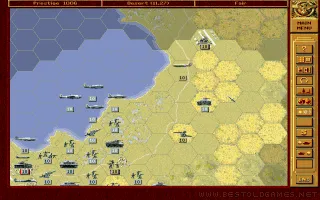 The largest conflict in world history has become a theme of many books, documents, movies and computer games. For those who are now dreaming about games like Wolfenstein 3D, where you kill nazis with heavy machine-gun, I have one little surprise. Panzer General is real and genuine turn-based strategy, in other words, do not expect any first-person shooting or blood. The game is designed for more demanding player occupying at least a little about the incident WW2. It is also a good thing to have a strategic spirit.
Game review
Basic characteristics of the game
The greatest conflict in the history of the world has become the subject of many books, documentaries, films and otherwise. For those who are just remembering games like Wolfenstein 3D, where you shoot skopčáky one by one with a heavy machine gun, I have one small surprise. Panzer General is a real and unadulterated turn-based strategy, in other words, don't expect any morals. The game is intended more for a more demanding player who is interested in at least a little about the events of World War II. It also doesn't hurt if you have a strategic spirit anyway.
This is actually a big plus and minus of this game. It is not for everyone, so either you will be interested at first sight, or you will send it boredom to Brandejs. For those who just want to relax without thinking and have a connection to old games, I still recommend Wolf. But if you want to find yourself in the position of commander of the Wehrmacht, move forward with your troops and show your skills, there is nothing better than a watch with the Panzer General.
Right at the beginning of the game, you - as a general of Nazi Germany's troops - are at your disposal to launch the entire campaign. There are five places to choose from where you can start mining. From 1939 in Poland until 1943 with the attack on Kharkov. Before each battle, you will receive a short briefing, thanks to which you have such an overview of what is happening. Thanks to this, you can also refresh and supplement your (un) knowledge of history
Another case occurs if you choose to play a separate battle. Here you have them all in the palm of your hand, as well as the side for which you intend to take the initiative. Everything is nicely arranged chronologically, even with a short description, so you don't have to worry about the ignorance of who - what - with whom and when. There are 38 battles, including the most famous ones such as El Alamein, Anzio, landings in Normandy, the Ardennes, Berlin, Moscow, Stalingrad and the largest tank battle near Kursk. If you plan to go through them all, you have something to do, because the game is not played in the style of real-time strategies, which you will soon find yourself
We start fighting what we have to choose from
First, you see a map with boxes and units in front of you. There are quite a few types of units, there are infantry, tanks, reconnaissance units, cannons, aircraft, ships. You can find some useful information about each, such as number, ammunition condition, armor, price and much much more. I mentioned the price, so we see the opportunity to buy units and improve their features. The game is divided into moves, ie each unit, you can go a certain distance and when you decide to start the opponent's move, you end your move. By moving our unit to the enemy unit, we have the opportunity to attack. We no longer influence events in the fight, but we have to be careful about who we attack with. A few infantrymen will probably not be able to do anything against a strong tank formation, so it is important to plan nicely with whom we will proceed. We have a certain number of moves to win, and if we fail to win, the mission unfortunately ends for us. There are really many options, it's up to you.
Graphic jacket and music
Stunning graphics aren't even needed here, because the game provides a view of the map, and as we've already mentioned, we only see small icons of our units and strategically move them to occupy and destroy enemy troops. Nevertheless, the game provides a pleasant user environment where there are not many unnecessary and confusing buttons. The music in the game is so ordinary in my opinion, it does not disturb you in thinking and whoever wants can turn them off and play something that suits him better. The sounds during the fight are quite successful, so I evaluate it positively.
Final verdict
As I mentioned, the game is not for everyone. It's the type of game that didn't appeal to the masses like Doom, but it certainly found a lot of die-hard fans. You can spend pleasant moments with it, if you like to control what is happening on the front from a comfortable chair. If you think that Hitler should send you to Stalingrad instead of General Paulus, do not hesitate - you will not pay anything for a taste 
Reviewed by

Anonym – 1. april 2014
Comments
Below are the most recent comments. Discuss this game in our forum to see all of them.
Hallo, der Pfad n der DOS Box funkioniert nicht.

Man muss bis ins Verzeichnis /exe gehen und dort dann panzer.exe startet.

Wer sich nicht mit DOS Box auskennt der kommt sonst nicht darauf.


Why so many spam posts here?

Well, because we had pretty bad antibot system. Now it should be better.
I loved that games specially commando, this game is my childhood entertainment
Thank you for posting a nice content this very useful for me
New Online Casino Malaysia 2022
User reviews
There are no reviews yet, be the first to review this game!