Road Rash
Windows game, 1996
Genre:

Year:

Developer:

Publisher:

Perspective:

Theme: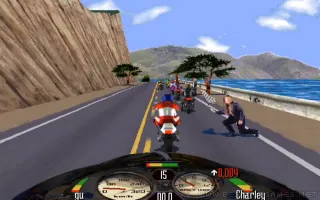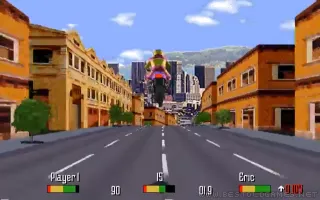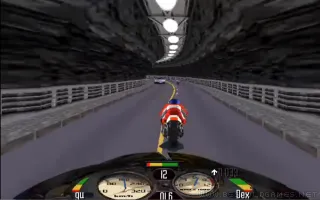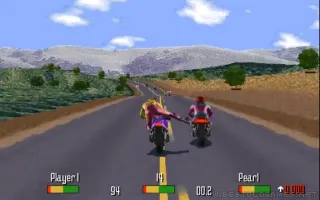 Rough music, leather clothing, plenty of booze and sexy girls - these are the main characteristics of bikers, or at least how most people portray them. The game Road Rash is about motorcycles and playing this game you will... wait for it... confirm all these myths/ideas! In the game you will meet a bunch of people, who have quite a lot of money so they can afford to buy expensive and fast bikes, and their life are not very valuable for them. You will race in with fast bikes and believe me, this game is everything, but not a fair-play, the races are harsh. Each time your opponent will try to overtake you, you can attack him (kick him, punch him,...) and tries to crash his bike. In real life, a fall at a speed of about 200km/hour would be fatal, but in the game is just a small crash, after a short moment you get up get back on the track. Road Rash contains 5 different tracks and offers 3 game modes: Trash mode (sit on the bike and at play), Big Game Mode (Championship, where you start as a beginner and you have to move to the top) and Mano-a-Mano Game Mode (multiplayer game over a network). Road Rash is not a traditional racing game, where bikers are fair, but the game has a great atmosphere, gameplay and catchy music.
Game review
No review yet. We are working very hard to write one for you.
You can help us by writing some cool user review for this game.
Comments
Below are the most recent comments. Discuss this game in our forum to see all of them.
Hello,

I tried playing this game in the browser but the game window shows "The program cannot run in DOS mode" so unable to play the game. Also, right now I am not able to play this game by downloading it as I am facing other display issue after the race starts...nothing is wrong with your download game file as i installed this game from different sources one by one & each time I faced the same display issue where the bottom half of the screen blacks-out after the race starts...so i am trying to play this game in browser instead of downloading. Please if you can resolve the browser issue, it will be a great help..thanks..

Thanks,
Ruchi
My bad, this game shouldn't be playable online, it's a windows game and there is no good way to play win games online. I've removed the online play.

You have to download the game and run it locally on your computer.
Road Rash is Windows game, you don't need to run the game through DOSBox. Run the game in compatible mode.
While Road Rash has potential to be truly outstanding, it falls short due to occasional graphical hiccups, absence of a two-player mode found in previous versions, and a diminished fighting aspect. Despite this, it remains a strong single-player racing game but may not live up to the expectations of hardcore Road Rash fans.

I hope my honest review will help you in further development.
Stefan Heisl,
Game Developer at Andersen.
i have tried downloading the game but each time i try to open it, it says Can not locate Road Rash. Please insert the Road Rash CD and try again.




User reviews
There are no reviews yet, be the first to review this game!