Yu-Gi-Oh!: Power of Chaos - Yugi the Destiny
Windows game, 2003
Genre:

Year:

Developer:

Publisher:

Perspective:

Theme: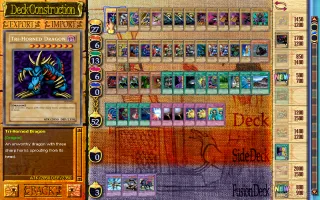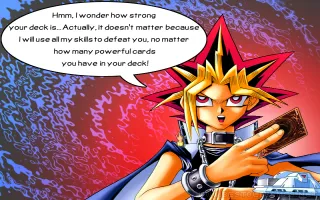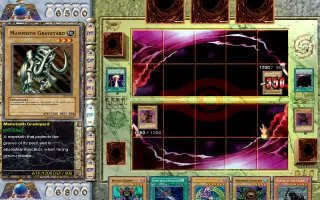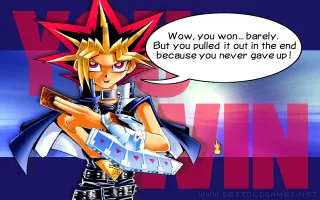 Yu-Gi-Oh! - A real Japanese legend has arrived. It was created by Kazuki Takahashi, who in 1996 released a manga about the adventures of boy Yugi (literally - "game"), who decided to reveal the secret of the mysterious ancient Egyptian artifact "Millennium Puzzle". Together with his friends, Yugi participates in card duels in the game "Duel Monsters". It differs from other entertainment in that "summoned" creatures appear directly during the match. Unfortunately, Yugi later realized that Duel Monsters were descendants of the Kingdom of Shadows, which had once nearly destroyed Earth.
Maestro Takahashi had no idea how popular his creation would be. Revenues from the sale of comics, cards and similar products in Japan alone exceeded $ 2 billion, and since 2001, "Yu-Gi-Oh!" Has become famous in America. Cartoons about the adventures of Yugi and his evil colleague Yami ("darkness") are broadcast on several TV channels at once, Mattel floods toy stores and food giant General Mills stamps the faces of the heroes on "quick breakfast" packages. Mania has extended to computer games, so we bring you a windows version of this famous card game.
Game review
No review yet. We are working very hard to write one for you.
You can help us by writing some cool user review for this game.
Comments
Below are the most recent comments. Discuss this game in our forum to see all of them.
Hi,
How are we supposed to install it ? Is there a compatibility chart ?
Everytime I try to launch the crack it doesn't work.
Can someone help me please

?
I AM ALSO NOW HAVING DIFFICULTY TRYING TO GET THE GAME TO WORK ON MY PC-WINDOWS 10. INSTRUCTIONS FROM WHERE IT SAYS UNZIP N DRAG ON TO DESKTOP ICON DOSBOX. BUT WHAT NAME AND FILE TO TYPE IN IS UNCLEAR. PLEASE HELP!!
Is this game available to play on a smart cellphone? Because I think it should be modified to a smartphone version. What do you all think of that?
User reviews
Please register or log in to post a review.
YU-GI-OH Power of Chaos-YU-GI THE DESTINY
Reviewed by GAMEMaster7 – 28. october 2021
SINCE THE FIRST SERIES OF THE ANIMATION ADVENTURE, I WAS HOOKED TO THIS PUZZLE GAME. COULD'NT WAIT TO GET MY HANDS ON THE VARIOUS GAME SECTIONS. WELL I ACTUALLY LOST MY COPIES I HAD, THAT'S WHY I CAME SEARCHING. FOUND IT!!!
TRUELY HAPPY WITH THIS GAME, BIG FAN ALL THE WAY.