Grand Prix Circuit: The Cycles
DOS game, 1989
Genre:

Year:

Developer:

Publisher:

Perspective:

Theme: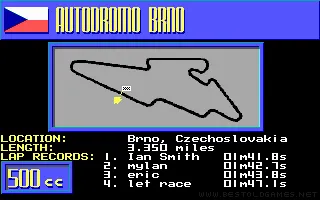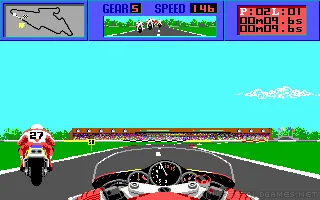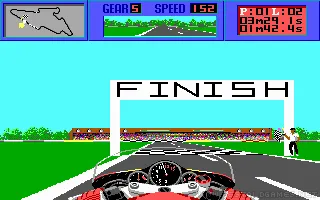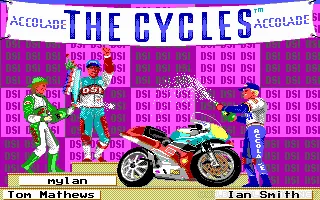 Who ever played Grand Prix Circuit, where you race in formulas, and liked the game, should definitely play the motorcycle copy: Grand Prix Circuit: Cycles. The game is very similar to the GPC, only with a few changes. You can choose a total of three bikes (125, 250 and 500cc), where each has a different characteristics, but in the game, you really can't feel these changes and you can win with all of them. You can race on a total of 15 different tracks divided by countries (Japan, Australia, USA, Spain, Italy, West Germany, Austria, Yugoslavia, Netherlands, Belgium, France, England, Sweden, Brazil and Czechoslovakia) and there are 5 different difficulty levels (the lowest for example, has an automatic transmission and rivals almost can not ride).
Game review
Vrooooom ... Vroooooom ... Yes Dear spectators. The last round of the race is underway. At the head is the 551 rider from Slovakia. Very sharp turn! And jajaj rider Mylan just crashed into a rider from the Czech Republic Mm-mareka and our 551 is rushing to the finish line! And he becomes the winner of the GRAND PRIZE OF JAPAN !! The grandstands are cracking, the spectators are going crazy !! 551 becomes a winner !!! Come on, all 551 !! 551 !!!
Ehm. I was kidnapped. But that's the way life goes. Once you're up, and once you're down. One day someone hits an opponent (see Mylan). Well, there was a lot of bullshit, we're going to the game.
Each of you must have played motorcycles. Or at least he used to ride small motorcycles in his early morning. Yes, it caught me too. I played this game a long time ago and crushed it like a wild one. It's actually such a stronger variety of GPEGA (GrandPrix).
So motorcycles. Whoever played GP and liked it so much must have GPC. It's actually the same just riding motorcycles, but if you like motorcycles, you don't care if you've already ridden this game on formulas.
You have a choice of about 3 motorcycles. Each has different characteristics, but you will hardly feel these characteristics while playing the game. The circuits are, as I mentioned above, the same as in GP. For an overview, I will mention the most interesting ones, namely VC Italia and VC Japan. At the Grand Prix of Japan, I liked the connection on Wednesday. (Track connection).
Gameplay. Gameplay is a very discussed concept. Especially nowadays. Personally, I think that with the development of games, their gameplay is increasing. Yes, but it only rises in some games. And there are very few of them. There have been more of these games in the past. For example, NHL 93-95. Where is the NHL 200x spent on them? He has no chance. An ardent maniac who has not survived what we elders will never understand what I am talking about. It is grown on modernly woven machines PS2 et al. But where are the old days of the Spectrums, Commodors, Amigo and the like? They are long gone. Until the Grand Prix 1 from Microprose, the GP was probably the most playable Formula and motorcycle race. Nobody just had them. It was just your clever fingers. Take today's time and, for example, such F1 2006 .. Millions of unnecessary settings in which only the programmers themselves and a few fanatics into the formulas are familiar. The game itself is just a matter of these settings and not your dexterity. And I think such races should be about YOUR dexterity and not the dexterity of your pre-race setup. This game is just a legend together from GP.
As for graphics. It's all EGA. (Again, today's youth do not even know what it is) but it is already secondary. The graphics have a cheerful and colorful impression. The country is beautiful and the opponents are also nicely drawn. Sounds. The sounds are from the PC Speaker. So I will keep quiet about their quality, but for that time. 
Reviewed by

Anonym – 1. april 2014
User reviews
There are no reviews yet, be the first to review this game!