Lotus: The Ultimate Challenge
DOS game, 1993
Genre:

Year:

Developer:

Publisher:

Perspective:

Theme: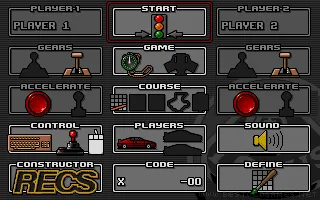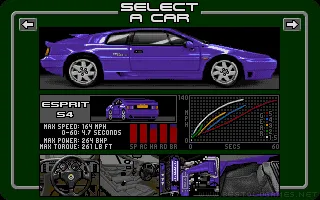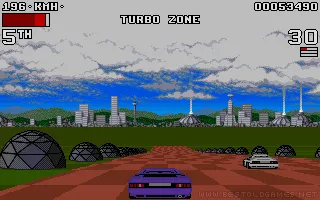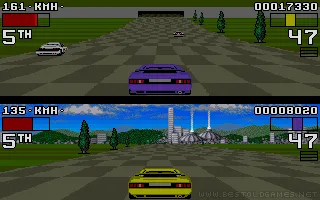 Lotus the Ultimate Challenge is the third installment in the game series Lotus Challenge, but the first game in the series that was released for DOS operating system. While players who have had the opportunity to try the first two parts of this game were not happy about it, PC gamers who played the game for the first time used to love it. I've never had Atari, so I have no idea what are the differences between this game and the first 2 parts, but for me, Lotus the Ultimate Challenge is a great, fun, fast and addicting game that I play on the emulator even today. You can choose 3 types of cars, 13 different tracks, championship, or time trial and you can choose whether you want manual or automatic transmission. A big positive point for this game is the track editor, where you can build your own tracks and so you don't have to race the same tracks over and over again.
Immediately after starting the game, a very successful menu will appear with rich graphics and you can set your name in it if you want a single player game and then the computer itself or if you want a two player game on one PC, you can also choose in this menu if you want race or time trial and other things. Then click on the start and you will find what kind of car you want and you can choose from two cars, I personally drove better in the other. And finally there is a menu where you set what you want to listen to music during the race .And hurray for the track you chose in the main menu, you could choose from four tracks. The whole track is full of beautiful graphics which were quite good for 1993. And we add the start speed with the Enter button. high. Competitors are quite easy to pre-inject, but when there are 20 of them, it is very difficult to be the first. But in the race you have to drive so that you have gas, because as soon as you run out of gas then there is Game Over. eckpoints and in the end you don't have a Checkpoint but a goal which will take you to a table in which you will find out how many you have been and who overtook you all and who you left behind.
Game review
No review yet. We are working very hard to write one for you.
You can help us by writing some cool user review for this game.
User reviews
There are no reviews yet, be the first to review this game!