Dyna Blaster (Bomberman)
DOS game, 1992
Genre:

Year:

Developer:

Publisher:

Perspective:

Theme:

-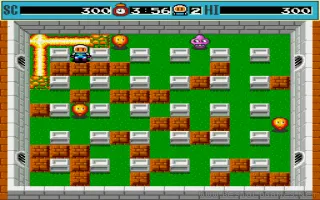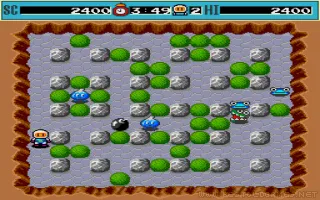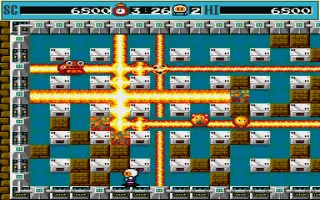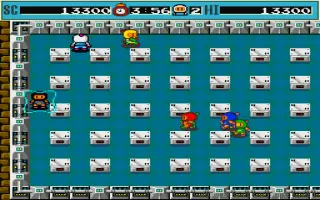 Dyna Blaster, or Bomberman - the story of how I became a pyrotechnic. One villain (it looks just like you, only he is black) has decided to take you girlfriend, lover or wife. It could even be a mother in law, but who would have rescued her, right? But as I told, you have to save some lady. To do this you have to use Jadin weapon of this game choice, and that is a big black ... bomb! yes almost the same as you remember it all from classic cartoons (that's why alternate name is Bomberman). With bombs you have to kill all monsters. After discharging the whole level one cube lights up if you have not found it thus and so it is teleported to the next level. You can try what happens when you teleport to the bomb. Quite fun.
Game review
One villain (he looks just like you, only he's black) has decided to take your girlfriend, mistress or wife. She could be a mother-in-law, but who would save her what? Well, as I have already revealed, your task is to save a certain fairer sex. The means to do this is Jadin's weapon, which occurs in the game and that is a big black ... bomb! yes, that's the classic of all cartoons. You stroke and kill monsters. After discharging the whole level, one cube will light up, if you haven't found it already and below it is a teleport to the next level. You have the opportunity to try what happens when you put a bomb on that teleport. Quite funny. (At least for whoever is looking at you). And so you continue on and on until you fight your way to where? but still further ... You follow a map, a picture of the castle and its surroundings. Each level has its own specifics, so when you are in the water, you have a crocodile at the enemy. Each level, such as a river, has more levels, which differ only in the size of the playing field. The variety is various special abilities, such as a fire - increases the firepower, or a bomb - you put more bombs ... then lives, speed of movement, detonation of bombs, etc.
The final meeting takes place at the castle. Kill all the monsters first and then enjoy the finals. The enemy is at an advantage because he has cover, sometimes he is injured and sometimes not. Of course you kill him and he breaks. Interesting is the touching outro where it occurs cracked. It's such sweets, romance - don't miss it and handkerchiefs with you ...
Attentive people have found that I wrote as a plus multiplayer. Yes, that's Dyna's main weapon. A huge whirlwind on one computer, fighting for cups and bonus skulls is one of the best the gaming industry has ever offered ... Who hasn't experienced a pumpkin puddle at school, where 30 people squeezed on one computer and cheered on 4 chosen ones who played like they weren't ... 
Reviewed by

Anonym – 1. april 2014
Comments
Below are the most recent comments. Discuss this game in our forum to see all of them.
Jaké je ovládání Dyny? Dá se i ovládání změnit?

every stage has a password, so u won't need to restart if u dead.
-----------------
Stage: Password:

Stage1 UXYWWWVG
UXOWMNVV
UWOWOJVG
MKZLOLYL
UUYWHTEU
MOOLOGCN
UXOWHMVW
MUKWONCE

Stage2 MUVEOSTP
UUGWWGEN
UBRLVVVG
UOCZWHEN
UWNKVEVG
UAGKVEEN
UXVKWHSG
UWNKVVVH

Stage3 UANKVJZA
MUBEOSCP
UOHZHGRA
MWEEHHZY
MXEEOIEY
UUVKHBRE
UKHZHHST
UOZZHWRZ

Stage4 UBBHIHHT
MUBCNNRP
UUGVNLZU
UUNVNMZI
UANVQSZU
OWOVQGHK
MXFCMGLH
MAKCIQEG

Stage5 UAKVVTTU
UAOVIHPE
MONNTWYC
UXKVMPAV
MUECVGYN
UBHHOWAK
UXVVHPAG
MCANWQAE

Stage6 UAKKMIKU
MXCCPSTY
MWCCGBCA
MOLNPIHC
MBLAIWNK
UCHZQNKN
UBHZQLNG
UBZZQTNH

Stage7 MXCETJPK
UAVKITKU
UWKKINNK
MWEESNNA
UWVKINNV
MUBEVVKN
UCZZOTKP

Stage8 MBGAGIEK
MCKAGILN
UWOFVJGZ
UWYFVIGY
UUYFWTUL
UCAOVILR
UOAOWTHL
MOCAEHNK
User reviews
There are no reviews yet, be the first to review this game!