Atomic Bomberman
Windows game, 1997
Genre:

Year:

Developer:

Publisher:

Perspective:

Theme: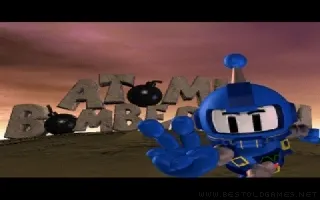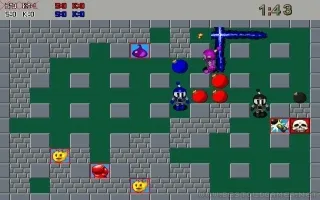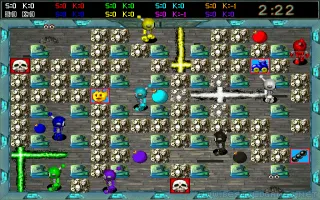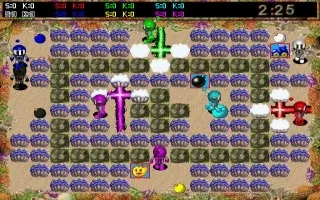 Atomic Bomberman is an isometric arcade platformer, the evolution of the older brother Dyna Blaster, focused on multiplayer gaming. The game has no tangible story, the first violin is played by exaggeration and the intention to let the player get really knocked out. One battle is a matter of a few minutes at most, played at a murderous pace. The little guys are equipped with the ability to place a bomb. After the detonation, a flame spreads in the horizontal and vertical direction, which eliminates all affected characters from the game and cancels the nearest removable blocks. The goal is to be the last to survive. A series of battles is played for a set number of victories. The main engine of the game are power-ups. The basic ones include increasing the maximum number of bombs placed at the same time and expanding the range of the flame, slightly less frequent are the ability to kick bombs or double-press to place a number of bombs. The form of power-ups also takes the form of so-called diseases, which include reverse control, inability to place a bomb or, conversely, bomb diarrhea. Depending on the type of map, there may be jumpers, teleports or arrows on the battlefield, according to which kicked bombs travel. Although the initial form of the maze is generated randomly, it may not be a necessary rule. If you want to fight on your own desktop, you can do so thanks to the included editor.
Game review
No review yet. We are working very hard to write one for you.
You can help us by writing some cool user review for this game.
User reviews
There are no reviews yet, be the first to review this game!