Teenage Mutant Ninja Turtles
DOS game, 1989
Genre:

Year:

Developer:

Publisher:

Perspective:

Theme: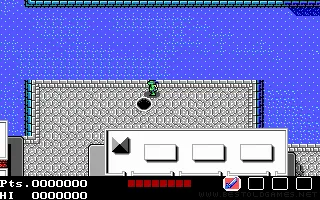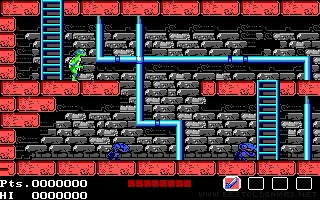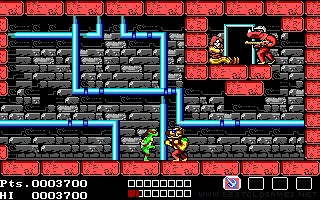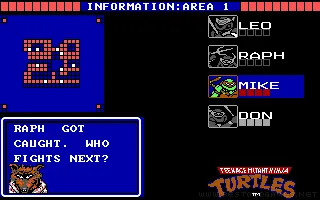 Teenage Mutant Ninja Turtles, a game from 1989, brings the beloved heroes in a half-shell to the DOS gaming platform. This game captures the essence of the popular franchise, allowing players to dive into the world of Leonardo, Michelangelo, Donatello, and Raphael as they face a daunting challenge. The game's plot revolves around the kidnapping of April O'Neil by the notorious villain Shredder and his cohorts, Bebop and Rocksteady.
Players are tasked with guiding the ninja turtles on a rescue mission to save April. Each turtle is equipped with his signature weapon – Leonardo wields a sword, Michelangelo a pair of nunchucks, Donatello a bo staff, and Raphael daggers. This variety in weaponry adds a unique flavor to the gameplay, as each turtle offers a different style of combat.
The game is a mix of action and adventure, taking players through various levels as they battle their way to the Technodrome, where April is being held captive. The journey is filled with obstacles and enemies, challenging players to utilize each turtle's strengths to advance.
Teenage Mutant Ninja Turtles for DOS is more than just an action game; it's a nostalgic trip into a cherished universe. With its faithful adaptation of the characters and setting, along with engaging gameplay, it remains a memorable title for fans of the series and retro gaming enthusiasts alike. The game captures the spirit of teamwork and adventure that is central to the Teenage Mutant Ninja Turtles' story, making it a classic in the world of DOS games.
Game review
No review yet. We are working very hard to write one for you.
You can help us by writing some cool user review for this game.
User reviews
There are no reviews yet, be the first to review this game!