Sensible Soccer
DOS game, 1993
Genre:

Year:

Developer:

Publisher:

Perspective:

Theme: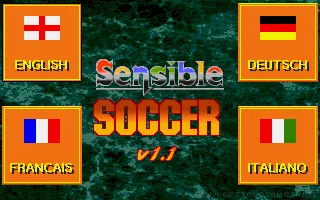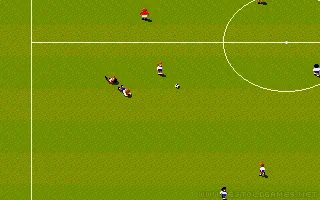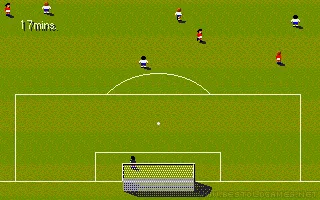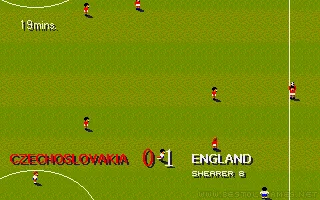 Oh joy of joys. A football game that is a pleasure to play - Sensible Soccer. Not only is the on-screen action accessible, fast and playable, the attention to detail is also Wright (sic) on the mark. The gameplay itself is very good, I want to say perfect, but I'm gonna stick with very good :) In two-player mode a real buzz of excited anticipation makes the on-screen match a tru competition and not merely a struggle with the control system as in the case with many footy sims. To be honest it is very difficult trying to find any criticisms of the game. But.. The top-down view adds to the feeling of control. However, players are a little too small. Whether they have been coded at this diminutive size to speed the game up, or whether this is a design criteria is open to question. Great in-game sound, lovely control system, accurate team details = don't wait, go play it!
Game review
As soon as I saw that there was an SS game on the BOG website, I couldn't miss it. And why ?? Because it's a legend. About the legend of football crossed with a manager on a PC.
Many of you were still pooping into your diapers when I was hot all the time in Riki (I greet the entire ex-editorial office of Riki) about Sensible Soccer. I stared in amazement at the pictures and their small but very nice graphics. What I think at the time was very perfect. Unfortunately, at that time (1992) I owned only Sinclair. A few years passed and I already had a 486. I saw this game in the store (Although it was the 1996 version, but there are only slight differences in it), my eyes lit up and my wallet brightened. Satisfied, I left the store with my SSoccer. No one could take it from me anymore, it was just mine and mine. And I guess I remember the weather that day. It was about -2 degrees and it was snowing outside. When I got home, I immediately inserted a CD into my then-destroyed CD drive. I had to spin the CD by hand after five minutes. (Yes, it works). I waited and nothing. So I ran the install.exe file. And it worked. The game installed and I released it. I showed an intro before the game. This intro contains only v. 95/96. So if you don't have it you probably have another version. But I recommend watching this intro as it is very entertaining and its music fits into it.
When the intro ended, I lay on the ground for a few more minutes of laughter, laughing. Then I got up and hurray. We have a choice here: whether we want to play a league, a cup, etc. We all know that. But there's one more thing, Carrer. And a career. You can manage this with the one you choose. What pleased me was that you will also find here that Slovan or now quite declining Inter. But if you are not successful, the owner of the team can fire you, but on the contrary, if you are successful, you will receive an offer from the national team. And what I like most about this fashion is that you can end up in the Jamaican League, for example. Other than other games, it's exactly the same as other games.
Let's move on slowly to the graphics. She is small and sometimes very small. But it is perfectly rozanimowana every single detail as spectators and the like. There is nothing to complain about, but I can't even start praising such a net average.
Music and sounds are also pure average. So we found out that what brings this game to heaven is not graphics or sounds or music .. But PLAYABILITY. The gameplay of this game is still unsurpassed. She is great. It is clear to see the differences between the teams on the field, for example DUNAJSKÁ STREDA vs. Real Madrid. For example, weak players often forget the ball when running when they change direction, but it does not become strong. A strong team has a better speed of playing more accurately and can quickly and accurately finish or push you 90 in their own zone.
I think that this football will remain unbeaten for a long time. He doesn't have any football on his PC yet, even though he doesn't know how much graphics he has. That's why I give this football a rating of 10/10. Thanks to Renegade Software for what they created in 1992. The legend lives on today. 
Reviewed by

Anonym – 1. april 2014
Comments
Below are the most recent comments. Discuss this game in our forum to see all of them.
Hi there!

When i want to play Sensible soccer, it asks for some password - word from a book.

What is the password to enter the game? I guess it used to be a copyright protection.
User reviews
There are no reviews yet, be the first to review this game!