Dungeon Master 2: Skullkeep
DOS game, 1993
Genre:

Year:

Developer:

Publisher:

Perspective:

Theme: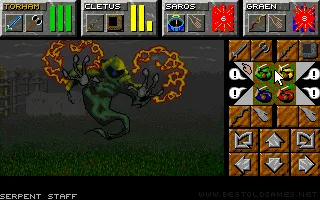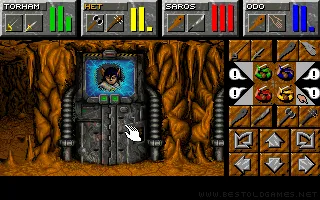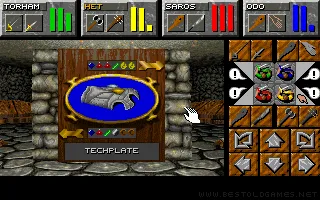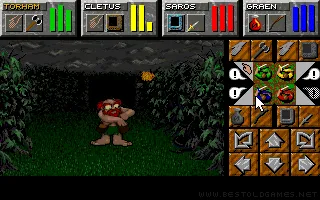 Dungeon Master II: The Legend of Skullkeep is a continuation of the legendary RPG issued in 1993 by FTL Games. The game uses the same concept as the previous version - you control 4 characters. Significantly changed the graphics and sound and music are much better. Were added a few features such as small road map.
Game review
Dear diary, I'm getting into the hands of game again. Yes, I finished it in ancient times, but even after so many years, it arouses respect and fear in me. I still remember today how I didn't know which of the world was reality. If I'm not playing a game whose goal is somehow vague, something called lifespan, life or something, or if I'm playing the boss of a party of warriors. Even now, I am leaning towards the fact that the game of life is too complicated to be a fact - so I'm a warrior ...
1 day
Today I befriended a couple of people, three of whom would go with me to explore Skullkeep Castle. It probably won't be fun. Anyway, it's still raining here, probably global warming or something.
Day 2
Hmm, so we went to the depths. I walk in the back like a magician, another mage walks to my left, and two warriors cut their way. I don't know if I chose well, we'll see ...
Day 3
It seems to me that we have already killed everything that goes, flies and crawls, but it's still not enough ...
Day 4
Another visit to the merchant. One fighter (I won't publish the name) got an amazing idea to cheat a businessman. The result is more than pathetic. This is where the rule with honesty goes the farthest.
Day 5 - 10
we keep wandering on and on, this maze will probably become our final station. Today's attack of the Chaos helpers, we just stopped ...
Day 11
We came to the cemetery. At first I hoped that we would rest here and replenish our strength, but it was only a pious wish ... The warriors almost carry us back ...
Day 12
I don't know why, but Chaos monsters are flying everywhere, they're probably afraid for their lives - me too.
Day 13
happy 13? ha, just an appearance. we got to the clouds, but we didn't warm up much. In the end, however, Dragoth was defeated. Glory to the winner, honor to the losers
After killing everyone and everything, a menu jumped out at me and then it kicked me somewhere completely different. Hmm, so it really was a game and that life will be a reality. I tried to walk down the street and kill a few monsters with an ax and nobody even thanked me ...
You can go through the game in many ways, like warriors or magicians. I'm more of a magician, so even today I wake up with the words ZO EW NETA on my lips. The spells in the game are really blessed, from purely offensive, I guess there are five of them to invisibility. The experience gaining system is simple, the more you do something, the more you can do it. It's logical, after all. After the dungeon, you collect a lot of things that you can sell to traders and possibly buy something else. It's just as much fun with traders. And they are more thieves than traders, look at those prices! But the game is not just about warfare. Lots of logical problems will also hold you back a bit. Other things are various buttons and step panels. Hence the holes and teleports. At the end of the game, for example, you have to run between the rams that throw you one floor lower. it is said that it works even without an acceleration spell, but perhaps when all the saints are standing by you. In the end, you have to set up the final duel with Dragoth. By using lots of minions and tridents, it can survive in health and burns ...
So the evaluation? Anyone who hasn't played this game has nothing to do in this world and will probably fall into hell, but in the end even at the time of the release Andrew claimed that he expected a little more. I think it fully falls into the category of the second part, and I would personally rate it ten percent worse than the first part, ie 130%. The only thing that disappointed me was the length. The game of this category and popularity should be a bit longer after all ...
Otherwise, I can highly recommend drawing a map or finding it on the net. Everything is easier then. I found my old one at home, from times long past ... :) 
Reviewed by

Anonym – 1. april 2014
User reviews
There are no reviews yet, be the first to review this game!