Dark Sun: Shattered Lands
DOS game, 1993
Genre:

Year:

Developer:

Publisher:

Perspective:

Theme: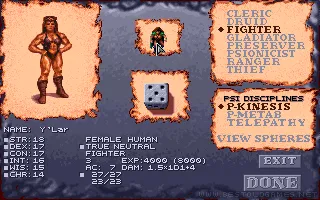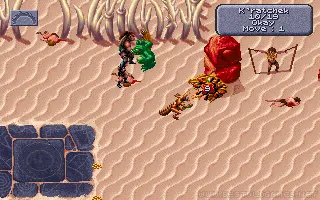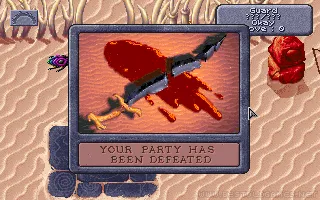 Another excellent conversion of the board game Advanced Dungeons & Dragons from SSI - Strategic Simulations, called Dark Sun: Shattered Lands. This is the first game from a Dark Sun trilogy. The story takes place on a distant planet, where the ruling magicians destroyed all the natural resources. You have your group and you must participate in fights in the arena. These fights are here to distract citizens attention from the real issues. Here begins your struggle in the fight for life, or death. Your task is to escape from the arena to the mountains and come back with the opposition to beat the evil. At the beginning you will need to create four characters and what makes this game interesting is that one character can have more occupations, not just one like in any other RPG games at the time. By combination of occupation, gender and other characteristics of your character you can reach different types of spells and magic, that your character will be able to do. All of these spells are well described, with their effects, and the number of points which are necessary for them. This is a very complex game and even more experienced players can spend days to complete it. This is the advantage, but also disadvantage of this game at the same time. After some time game became a bit boring, endless wandering the vast plains and recurring battles all over again can be frustrating.
Game review
No review yet. We are working very hard to write one for you.
You can help us by writing some cool user review for this game.
Comments
Below are the most recent comments. Discuss this game in our forum to see all of them.
Greetings kind sir, i was wondering how can i save my progress if i play by the browser? i tried to save ingame then i closed the browser, but when i open it again to continue my progress it didnt save? so is it possible to save my progress when i play in browser mode or no ?
Saving should work now. Try playing online and saving again

User reviews
There are no reviews yet, be the first to review this game!