Blood
DOS game, 1997
Genre:

Year:

Developer:

Publisher:

Perspective:

Theme: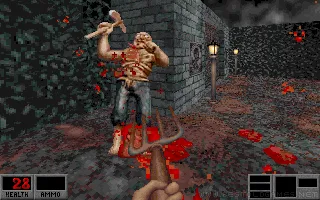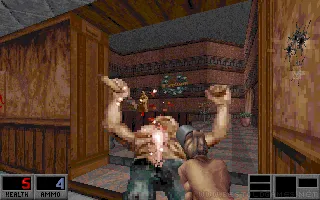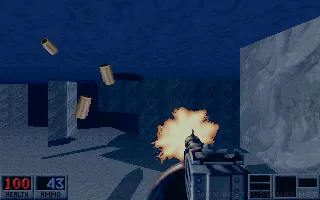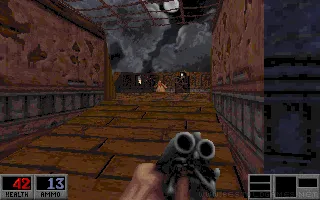 Great 3D action shooter that felt asleep a little in a graphic sphere for the time it was released. The game is brutal, as the name itself says, and so it is only recommended for the age group 15+. Compared to similar games of the time it has brought at least a few improvements - you can move with many objects in the game and it's also possible to destroy them (in a certain way).
Game review
Blood is a remarkable fluid that circulates in our veins (at least in most of us) and thanks to which we can fumble around this beautiful world, in short, live. It is generally said that it is rare and irreplaceable, so friends, let's take buckets, ladles, bandas and thermoses and let's pick it up according to your wishes and tastes, in this 3D action there is enough blood for everyone and maybe even a piece will remain in stock.
In 1997, a previously unknown team of developers from Monolith Production made us happy with a new 3D action game, which is based on the famous Built Engine, which was first used in the creation of the game Duke Nukem 3D. The authors bought the license and decided to transfer their perverted SELF to the monitors of our computers in the form of a game, which they named Blood. I think this simple word is really eloquent.
The issue of the story is as simple as it can be in this genre, at least it will not unnecessarily distract our attention from the action rampage. Basically, come up with whatever you want, and if a bunch of passable, fanatical monks, a horde of the undead and streams of blood fit you in, you have the right story. Just for completeness and peace of mind: An unknown sect has kidnapped your wife and you have the task of destroying this sect and your wife, huh? ... what about? ... break free! Soooo, and it's out.
The very beginning of the game itself will easily warn us that something is a bit different - we are used to everything, but most games of this type, ie 3D cuts start according to the usual scenario: in one place lived at one time was our Hero, And he will save the whole world. in the case of Blood, we start with flowers. Yes, our brave hero comes out of his own grave as he comes to life again and with the words "I live again" he grabs a pitchfork and goes to the "thing". At first, after a few steps, a slightly confused player can try out in practice what the forks are actually good for and that the JRD staff is far from appreciating their hidden potential. However, this does not end the calculation of a bit of unconventional weapons, and know that I will return to this topic once again ...
... now I have technical processing at my fingertips, which is also worth noting, because it is at a very solid level, whether we take into account the detailed textures for our time, the possibility of high resolution (up to 800 by 600 pixels), or at that time less seen and relatively complex effects (eg the ability to see through the water surface). Even the soundtrack assures us of the perverse perverted qualities, whether we mean the buzz, the Hecks and the deadly agony of the enemies, the effects of weapons, or the game underline as such, all put us in the right blood-gloomy atmosphere in which the whole he plays. But so that my dear ones do not stretch you for a long time, I will tell you the strongest aspect of this game: that is the design, structure and variability of individual levels. The number of locations you visit and their sophistication are breathtaking and there is still something to enjoy. On your bloody pilgrimage, visit the crematorium, the train station, take the train, have fun in the circus, go to the mines, to the castle and visit hell itself, which is itself a concentration of disgust, with logic and architecture (if you can call it that ) of individual levels is extremely elaborate and will not leave you in any doubt that the authors really won with this delicacy. Expressed in numbers: there are a total of four episodes for you on seven levels, each of which is differently thematically focused. When I mention it in the previous paragraph of the thrown weapon, it should be noted that the fantasy was not investigated and to cheer up our black souls we have an interesting arsenal, including less common voodoo doll, pistol for flares and maybe a combination of lighter and spray, or do you are a flamethrower. If you feel that your weapons are ineffective, try using the magic X key, which will trigger a second (total extermination) mode and interesting things will start to happen (but at the risk of just getting dusty after your ammunition).
So let's not be afraid of enemies and if we are already with them, it is good to mention how we are on this side, so the amount is quite variable and it all depends on the choice of difficulty, as for the number of types of enemies and beasts . On the other hand, in addition to the mentioned zombies and driven monks, we also have classic spiders, flying monsters and creatures, exhumed butchers with meat cleavers, and quite original walking hands that have crossed the path from the Adams family. Add an extra boss to it all at the end of each episode, and we have a rough list of individuals behind us. And that it's you, I'll share with you a little game pearl: with a little dexterity and luck, it sometimes happens that a zombie leaves his head in memory of us after his death, and then you can hear the great undead football player. including Mr Bass.
And as we gradually get stuck with this whole strange review, we find ourselves at the very end and I predict from your red eyes that you would welcome some of the resume, so Blood is a game that will definitely captivate you with its undisguised brutality, gloomy to haunting atmosphere, such as delicious spices are interesting weapons, well-designed levels and especially excellent gameplay, including the possibility of playing over the net, which I dare to call successful. To unwind, from time to time a happy message or a comment is thrown out of the main character's mouth, or a comment that will give you a little stiff face and you can boldly go to the next and next levels ...
I deliberately avoided a comparison with the game Duke Nukem 3D in the review, mainly because I would probably not even get to the point of substance from the eternal comparison. For everyone else: Blood is one of the many clones of this mentioned legend and rightly ranks among the most successful, so let's not hesitate and start, the path is far ... 
Reviewed by

Anonym – 1. april 2014
User reviews
There are no reviews yet, be the first to review this game!