Zool 2
DOS game, 1994
Genre:

Year:

Developer:

Publisher:

Perspective:

Theme: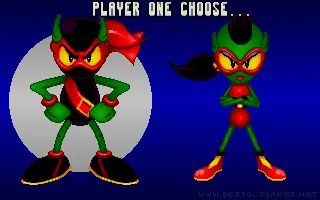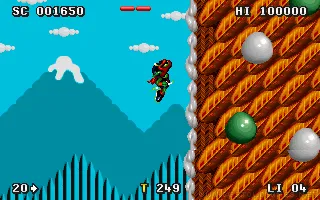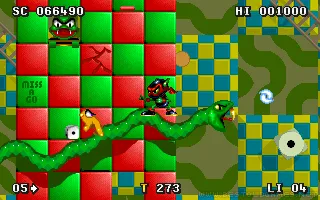 It's very rare to see a game based on commercial product to succeed in the world of video games. I can remember only few cases, and among them, perhaps the most successful, is game Zool, which in 1994 even got its sequel: Zool 2. The first part was not based on a original idea, it was just another runner game, but the game had a crazy graphics and good gameplay. These two things were enough to build on its success and introduce Zool 2. In addition to Zool, there is a new character, apparently his girlfriend - Zooz. However, there is no difference between these two characters, both have the same moves, so when selecting characters it's just up on your sympathies. The game is divided into a 5 worlds (like Swan, Bulberry Hill, Tooting Common, Snaking Pass, Mountices), in each world, you have to go through three levels, so together you have to pass 15 levels. At the end of the game, there is an extra level in the world of Mental Blockage. You can't expect much from this game, but it's a great entertainment for a long evening.
Game review
No review yet. We are working very hard to write one for you.
You can help us by writing some cool user review for this game.
Comments
Below are the most recent comments. Discuss this game in our forum to see all of them.
Hi. I tried to play with this game, but it told me that can not run from CD-Rom

Thanks for pointing that out. I have uploaded a different version of Zool 2, it should work in DOSBox, so try redownloading it, or just play Zool 2 online

(you might want to clear the browser cache if you tried to play it online before)
User reviews
There are no reviews yet, be the first to review this game!