Jetpack
DOS game, 1993
Genre:

Year:

Developer:

Publisher:

Perspective:

Theme: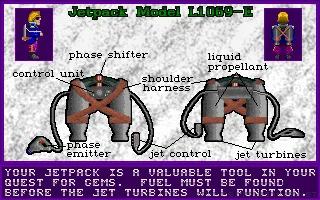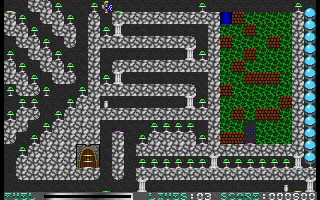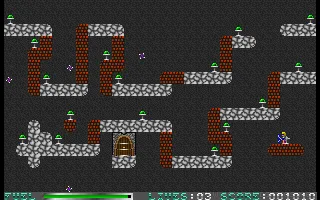 Your task is to collect green gems placed in more than 100 small rooms (dungeons). You have a Jetpack at your disposal, which will take you to inaccessible places. To use the Jetpack, you need fuel, which is also located in the room. There are several types - half, full and special (gradually supplementing or removing).
You move along the "walls" of several kinds - concrete wall, clay, icy, overgrown (slows down) and moving, or "box", which once destroyed, will not reappear. In addition to the Jetpack, ladders (fixed or movable) can be used to overcome heights. Furthermore, in the game there are "doors" of 3 colors (red, blue, green), which you can open using a "button" of the same color.
In addition to gems, you can take (optional) gold items that add you a few points, or a gold statuette - it adds 1 extra life. Enemies can't be killed or destroyed, but you can "lock" them in a wall, door, or use a Stunner (looks like a spinning wheel) to temporarily stop them all. Alternatively, you can use a shield (Shiled) for temporary immunity. There is also the danger of a "Hidden Spear" or a popping blade that is difficult to see.
Game review
No review yet. We are working very hard to write one for you.
You can help us by writing some cool user review for this game.
User reviews
There are no reviews yet, be the first to review this game!