Prince of Persia
DOS game, 1990
Genre:

Year:

Developer:

Publisher:

Perspective:

Theme: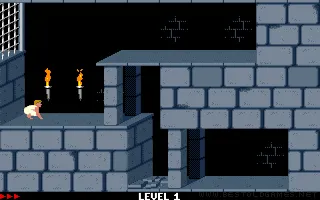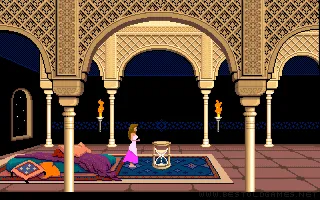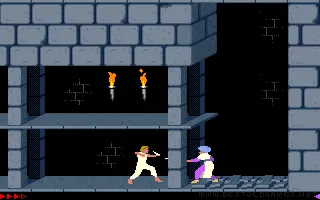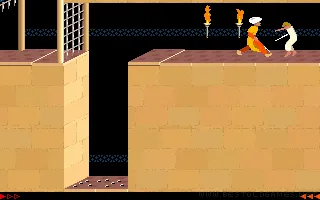 Fantastic and one of the most memorable old dos game, created by Jordan Mechner: Prince of Persia. Prince of Persia is set to a nicely done 2D environment and you play the role of a young prince, who must rescue the princess from the evil sultan. You just have to pass through the 12 levels and princess will throws herself into your arms. Easy as pie, except for a few small things. Palace and dungeons you go through is full of all sorts of traps: the most scary one for me are abysses - you can see them everywhere in the game and you have to learn how to overcome them. It is important to learn how to time your jump, because if you jump a second later, you're gonna fall down. You have to notice the places, where you can fall through the floor. There are also lots of traps in the form of the guillotine and the young prince could easily become 2-half prince. And last but not least, there are a number of trained enemies - Fakirs. As you advance during the gameplay, their skills improve and you start to meet smarter and harder opponents. Prince of Persia is a truly remarkable game, and even today it is great entertainment for a long evening.
Game review
A game by Jordan Mechner, which, thanks to its popularity, has received many sequels (whether successful or vice versa). In this game, wrapped in a somewhat simpler 2D jacket, in the role of a young prince, you set out to save the princess from the villainous sultan. So it's up to you to go through 12 treacherous levels and free the princess.
Simple as a slap, except for a few little things. The dungeons and the palace you have to go through are strewn with all sorts of traps: abysses - so you will meet this really on every corner, here it is important to learn to time the jump correctly and pay attention to places where the floor may fall, otherwise I wish you a pleasant flight, because the way down is in many cases a disgustingly deep stepping platform - the part of the floor on which when you step on, open the bars (but only for a while), the buttons can have the opposite effect, so you can block the path and you will have to return, or in some cases take a detour of bayonets in the floor - an unpleasant thing, the best way to overcome them is to normally walk them slowly or just skip, otherwise you will be under flowers and you start the level from the beginning (as in any case of death) steel teeth - another trap for which you will need good timing, just go through before the teeth fall.
You are not alone in the dungeons, so in addition to them you will have fights with internships (this will be possible only after you find the sword), fights are not difficult, if you have a perch and you cover enemy attacks, you will consider fights the easiest part of the game, in my opinion, a lot of pity. In some places you can come across skeletons, but you have to beat them with a certain trick.
Then there are only potions and two small surprises. I will not spoil your surprise, but I guarantee you that if you finish the game, you will come across at least one (even if you do not like it very much). There are several types of potions in the game, red will add one health point, blue ones will take it away from you again You will definitely be most interested in big red potions, they will permanently increase your healtbar by 1 point (they are well hidden and finding them is no fun).
And best of all, you only have 1 hour of pure time to finish the game, so I can guarantee you that you will definitely not finish it for the first time (unless you cheat), because without knowing the levels, 60 minutes is really scarce.
Control:
You control the Prince only with the cursor arrows and shift (this captures the edges of the platforms, fencing with a sword, collecting potions or slowing down walking). The game is also played well with the help of a gamepad, so if you own it, there is nothing to solve. 
Reviewed by

Anonym – 1. april 2014
User reviews
There are no reviews yet, be the first to review this game!