Aladdin
DOS game, 1993
Genre:

Year:

Developer:

Publisher:

Perspective:

Theme: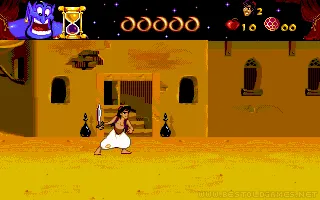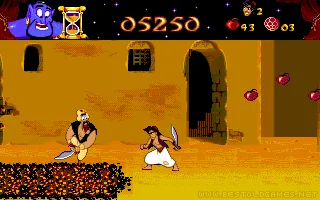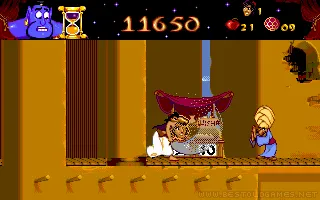 Aladdin is very nicely done game inspired by the animated film of 1992 with the same name from Disney. Game based on the movie and is placed you to the same areas as the hero in the movie - whether it's the streets and rooftops of Agrabah, to the final battle in the palace. You use a sword and apples (wtf?) to kill enemies and you have to jump and jump to achieve the victory.
Game review
As early as 1994, games on the theme of film (which is, by chance, on the theme of books) became popular among the people. Of course, this also includes the so-called "Disney", which most of you went to the cinema with your parents. This is how this game from the producer Walt Disney was somehow created. It is a typical platformer, where with your hero (who would have thought that in this case with Aladdin, not to confuse with the terrorist Ajman Zahávir) you will go through levels full of traps (thorns, falling objects ...) and enemies.
Using weapons and other means such as. shooting apples, sending these poor people to the code sky game. Do not have mercy on them, they would do the same if the developers did not endow them with natural mantas. You can also jump on camel humps, which in this case spit on some unidentifiable matter that kills villains (which the hell it could be, I'd rather not even know). In this respect, the game seems too violent to me, and I wonder why there was no movement to protect the camels. So just a little warning for the kids: Don't try it at home, your camel might not like it. But back to the game.
The priority is to save (as usual) Princess Jasmine (you see the outdated patriarchal system, where there is always a male savior and a female victim) and to fight against a rogue criminal (that's a great phrase, but I'm wise) Jafar, who is really rogue and he is preparing a conspiracy for the sultan. Of course, using the various "subtasks" you get at that level.
You jump at levels, run up and climb quite a bit, sometimes you can even get lost, because everything is quite similar and harm to health is not excluded (only in exceptional cases). In the end, however, you will undoubtedly find the right path, and joy is then in place.
In terms of graphics, it's quite nice, as is the case in Disney games. There is also such a small tweak, given the size of your remaining health. The less you have it, the more frightened the blue genie next to it looks at you. Accompanying music is so non-violent Arabic (the Arab world is fundamentally non-conflicting). As for the difficulty of the game per player, it is not a difficult game and while we are at it, you have a choice between three difficulties (easy, norm and hard).
So if you enjoy this kind of action platformer, then play it, it should most likely not be missing in your game repeort of scalps. Good lacquer. 
Reviewed by

Anonym – 1. april 2014
Comments
Below are the most recent comments. Discuss this game in our forum to see all of them.
Relaxing can help keep you healthy, in both your body and mind, helping you recover from the everyday stresses that life throws at you. Luckily, no matter how busy you are, it's simple to play rocket bot royale for chilling and also how to best relax.
2fdck,Mephedrone,4mmc ,MDPV,Ethylone Crystal,3mmc,4-MEC,A-PVP,methedrone

We are supplier of high Quality Methylone ,Ketamine,
Ethylone Big rock crystal ,Brown crystal and différent
products of very good quality and competitive prices.


Other product includes:
2fdck
Mephedrone 4mmc
MDPV
Ethylone Crystal
3mmc
4-MEC
A-PVP
methedrone
Methylone (bk-MDMA)
ST-135
AKB48
5F-AKB48
AB-Fubinaca
AB-Pinaca,
BB-22
Ab-chminaca
4-cmc Crystal
3-cmc Crystal
jwh-210
JWH-203 1 213 935 9834
jwh-122
5Fur-144
EAM-2201
AM 2201
AM2202
am1220
Butylone crystal
pentedrone Crystal

we do supply others products upa on request if you need.
We offer the most reliable transaction and sell at very
affordable prices. We ship world wide and offer one of
the best discreet delivery service ever to our customers.

Please contact us if interested via Email : jiansong19@gmail.com
or via wickr me ......jiansong19 or via skype ......live:.cid.763e4a36cb2637f4
Wheel games can provide a delightful escape and much-needed comfort in the otherwise mundane and stressful environment of offices. These games, often found on websites or mobile apps, offer a fun and interactive way to relax and rejuvenate during breaks or downtime.
User reviews
There are no reviews yet, be the first to review this game!