Need for Speed III: Hot Pursuit
Windows game, 1998
Genre:

Year:

Developer:

Publisher:

Perspective:

Theme:

-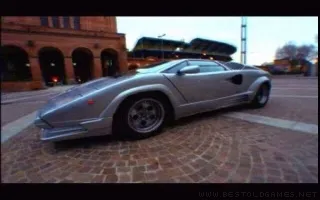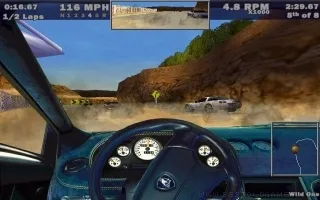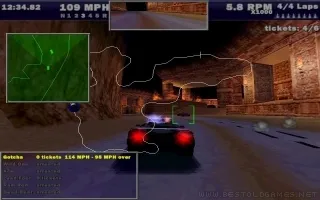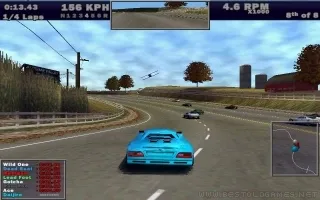 The third part of the iconic series, subtitled Hot Pursuit, contains eight basic tracks, a bonus ninth, eleven inflated and licensed supersports, four single-player game modes, various shortcuts along marked roads and paths, chases with police, various city street environments, underwater tunnels , mountainous landscapes, desolate deserts and snowy plains.
The mani mode is Hot Pursuit - in which you must not get caught by the police, if they get you, you only have a limited number of arrests. In this mode, you also have the task of chasing the competitors in the skin of a police officer. The tournament is a classic analogy of a career, with eight tracks in a row, four laps each time. The extent of the individual stages will swallow something around forty-two seconds, so the whole tournament is running more slowly. The game provides two levels of difficulty, the first is Beginner and the second Expert. The difference is obvious right away, races during the day will replace the night, instead of sunny weather it is raining, the tracks are mirrored, etc.
In Single Race you can choose from all available vehicles and tracks. Each car behaves a little differently when driving, accelerates slower, faster, reacts differently in corners. Therefore, before the race, carefully consider which ones you prefer. In Knockout, the last of the second round falls out. After completing the eight tracks, there will be a final settlement in the ninth, where you will taste the intricacies of the streets of Empire City, essentially similar to the industrial zone from Porsche Unleashed.
Licensed cars include the Aston Martin DB7, Chevrolet Corvette C5, Ferrari 355 F1 Spider, Ferrari 550 Maranello, Italdesign Scighera, Jaguar XK8, Jaguar XJR-15, Lamborghini Countach, Lamborghini Diablo SV, Mercedes CLK GTR and Mercedes SL600. Initially, you don't have them all accessible, but they will be made available to you later as a reward for winning.
Game review
No review yet. We are working very hard to write one for you.
You can help us by writing some cool user review for this game.
Comments
Below are the most recent comments. Discuss this game in our forum to see all of them.
This game is 100% working. Best experience with this website. There are a lot of famous games here. Thank You.
This game does not allow me to rebind keys and I am stuck unable to play. Everything just is bound to "Joystick 3" despite me not even having any sort of controller attached.
User reviews
There are no reviews yet, be the first to review this game!