Empire Deluxe
DOS game, 1993
Genre:

Year:

Developer:

Publisher:

Perspective:

Theme: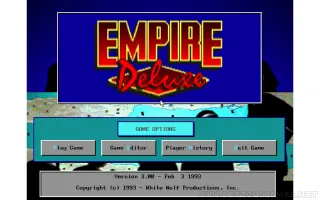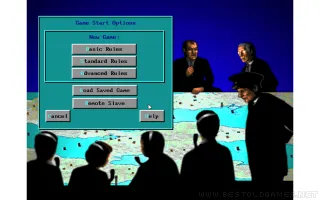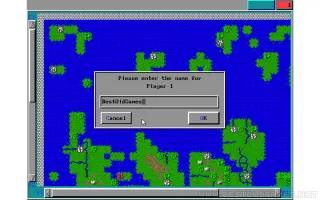 Empire is a turn-based wargame with simple rules, based on various war movies and board games, notably Battle of Britain and Risk. The game was ported to many platforms in the 1970s and 80s. At the start of a new game, a random game map is generated on a square grid basis. The map normally consists of numerous islands, although a variety of algorithms were used in different versions of the game, producing different styles of maps. Randomly distributed on the land are a number of cities. The players start the game controlling one of these cities each. The area immediately around the city is visible, but the rest of the world map is blacked out. The city can be set to build armies, aircraft, and various types of ships. Cities take a particular number of turns to produce the various units, with the armies typically being the most rapid. Players move these units on the map to explore the world, typically seeing the land within a one square radius around the unit. As they explore they will find other cities, initially independent, and can capture them with their armies. The captured cities are then set to produce new units as well. As the player's collection of cities expands, they are able to set aside some to produce more time-consuming types, like battleships. Ultimately they have to use these forces to take all the cities on the map, including those of the other players, who are often run by the computer's game engine.
Game review
No review yet. We are working very hard to write one for you.
You can help us by writing some cool user review for this game.
User reviews
There are no reviews yet, be the first to review this game!