Crazy Cars 2
DOS game, 1989
Genre:

Year:

Developer:

Publisher:

Perspective:

Theme: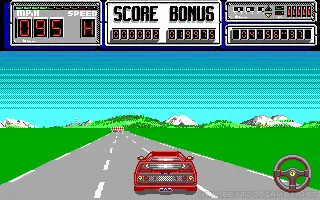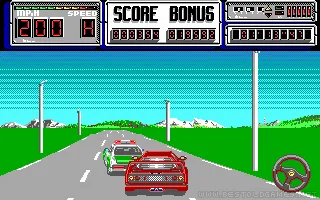 Crazy Cars 2, released in 1982, can be seen as an early forerunner to the modern racing games like the Need for Speed series. This game offers a straightforward yet captivating racing experience, where players navigate their cars through bustling streets and face the realistic challenge of vehicular wear and tear.
One of the key aspects of Crazy Cars 2 is its focus on the consequences of collisions and crashes. Every time a player's car crashes into another vehicle, it sustains damage. This damage isn't just cosmetic; it affects the car's performance. If players neglect to repair their cars, they'll notice a gradual decline in speed and handling, making the game progressively more challenging. This mechanic adds a layer of strategy and resource management to the racing experience.
Players aren't just racing and repairing in Crazy Cars 2; there's also an element of car improvement and customization. The money earned in the game can be used for more than just repairs. Players have the opportunity to upgrade and enhance their vehicles, turning them into 'crazy cars' with improved performance and capabilities.
Crazy Cars 2 stands out for its blend of action-packed racing and the need to maintain and upgrade your vehicle. This combination of speed, strategy, and car management makes for an engaging gameplay experience, especially for players who enjoy the added challenge of keeping their race car in top condition while competing against others on the streets. The game's approach to car damage and repairs adds a realistic touch to the racing genre, setting it apart from many other titles of its time.
Game review
No review yet. We are working very hard to write one for you.
You can help us by writing some cool user review for this game.
User reviews
There are no reviews yet, be the first to review this game!