Blockout
DOS game, 1989
Genre:

Year:

Developer:

Publisher:

Perspective:

Theme: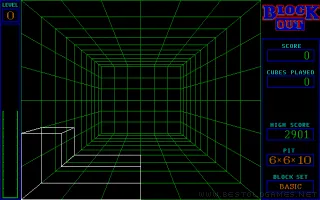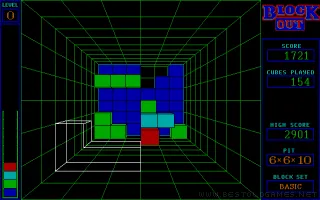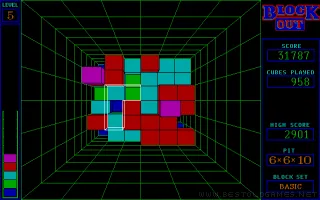 Do you like tetris, ou find it a bit boring? Or are you already bored of tetris? The give Blockout a try and immerse yourself in the world of 3D Tetris. Blocks are coming from your point of view and you can rotate them in 3D, so you will not see the boring 2D environment anymore, but you'll have to think even in the third dimension. The blocks have different shapes and it can be really hard to remember all the blank spots.
Game review
Cubes and cubes again ... Probably everyone knows various shapes or patvars slowly, sometimes even insidiously fast, falling down. Of course, everyone can create their own upgrade and turn the monitor and it will fall to you ... We are, of course, about Tetris, the ancestors of all warehouse workers. For the ignorant I will illuminate the principle. Various shapes appear on the rectangular playing surface (shorter side down). Starting with four dice in a row through small cubes and ending with the familiar shape of a "boat" in the popular school game Ships. So the cubes fall from above and (mostly) you turn them with the space bar. Once you have rotated them as needed, you can mercilessly send the unit down (usually) by pressing enter. The joke is that these dice formations move down on their own, which is sometimes annoying. When a row is completely filled with dice, this row "disappears" and points are added to you. And like this indefinitely in the style of "... and if they didn't die they compose there to this day".
That would be Tetris. But now imagine that Tetris is a kind of side view or front view. Blockout is a floor plan. Of course appropriately isometrically modified .... So this time it will be a game where there are dice with a total volume of 1l from a box of the same volume and the goal is to stack the dice there (force solution by deforming the dice [for laymen: stamping the dice in the box] this time).
This creates an absolutely breathtaking game with an original idea and straining our brain. Because in Tetris, you know where you have a gap and how you can use it. You see that in Blockout ***** (simply nothing). I can highly recommend Blockout, it's one of the few games that really caught me. Respectively, I eat ....
And just to add, Inspector Colombo solved one case this way. An alibi built for unloading books from crates failed precisely because the books could not be stacked there .... 
Reviewed by

Anonym – 1. april 2014
Comments
Below are the most recent comments. Discuss this game in our forum to see all of them.
..
Love this BlockOut game.
I Challenge you.
Prefer level: " Out of control "
Can you beat my record?

Regards MagI
...
There is online browser version in JavaScript and HTML5.
Google: BlockOut online
and you will find them.
User reviews
Please register or log in to post a review.
BlockOut
Most helpful review
Reviewed by Jlivingstonsg – 18. march 2021
...
My favorite game 1989 and I still Master the game.
I play level " Out of control "
I Challenge you.