Tetris
DOS game, 1987
Genre:

Year:

Developer:

Publisher:

Perspective:

Theme: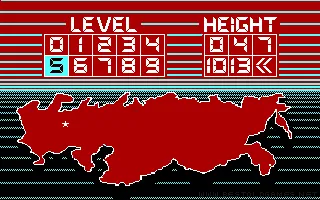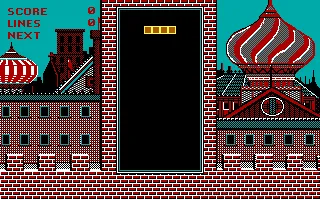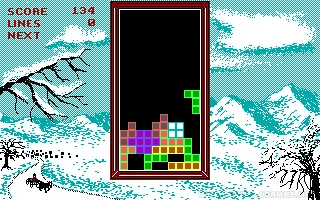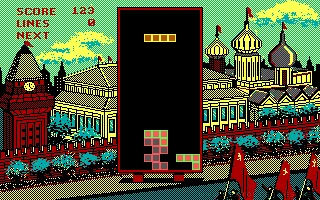 This famous Soviet game has many fans as it was transformed into every console and computer out there. Even today the game is being played every day by millions of player, but to be honest... there is only one original - Tetris from 1987. I wonder if 20 years ago two programmers, who created this game, was dreaming about how popular the game becomes and how they affect the gaming industry over the years. This original game is really fun, there are lot of different enviroments you can enjoy and the game is pretty challenging. The graphics is unforgetable, it has the old, but good feel. Enjoy!
Game review
Prologue - Stalingrad (today's Volgograd), sometime in 1986.
In one nice winter evening, 7 cubes came together while listening to a radio program of a Soviet newsletter - the program is accompanied by Nikita Ivan Rubľovič.
"Good evening, dear comrades. Today, Russian programmers, especially Comrade Alexei Pajitin and Comrade Vadim Gerasimov, have been able to program a new computer game today. That's why I want to announce a general conscription for all the dice they're listening to. Report to the nearest barracks. "
Part 1 - Cube barracks.
L-shaped cube: "Hello, where did you come from? I'm from Moscow."
Cube in the shape of "I": "Oh, I'm from Leningrad. Don't you know what's going to happen to us?"
L-shaped cube: "I heard a report on the radio about a new dice game, we have to intervene in computer battles"
"I" shaped cube: "Well, I'm curious, I hope we'll meet again."
L-shaped cube: "I doubt it enough, it is said that many cubes fall behind the homeland."
Part 2 - The course of the Battle of Tetris, comments on Nikita Ivan Rubľovič (explosions are heard in the background).
"I'm reporting straight from Tetris, it's very stuffy here! Not far from home, an L-shaped cube fell and another shower of square-shaped cubes crashed on it. The score is 1502, the loss of life is huge. And finally the cube has fallen. in the shape of "I" and we move another line and the score rises uncompromisingly. "
Part 3 - The end of the Battle of Tetris, commented again by Nikita Ivan Rubľovič (moans of wounded cubes sound in the background)
"I got the word again. This fight doesn't look very rosy. There are two free lines left in the defeat. And just one cube fell here. One more and it's over. they are willing to lay down their lives. And it has already fallen, and it is GAME OVER. "
Ener Your Name: _ (blink blink)
Once more? (Y / N)> _ (flash flash)
Epilogue - Bratislava, sometime in 2006
This is how the era of Tetris began and ended. This famous Soviet game has experienced many fans and other forms. To this day, it is played by disobedient students through computer science classes on the old 486s. I don't know if 20 years ago, these two programmers could even imagine how popular their game would become and how far the gaming industry would move over the years. We'll see what happens on computers (?) In the next 20 years. We will be surprised 
Reviewed by

Anonym – 1. april 2014
User reviews
There are no reviews yet, be the first to review this game!