Battle Bugs
DOS game, 1994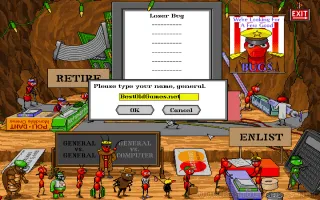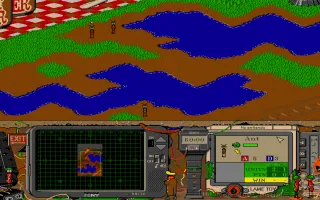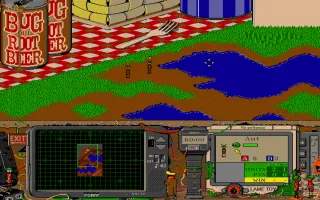 Battle Bugs is a tactical game about the rough daily life of insects. The game was created in DOS and has nice graphics, cartoon design and interesting gameplay. Battle Bugs gives us the opportunity to feel like the commander of a group of insects, whose only purpose is to survive in this harsh world and to survive, as you know, you need food! It is food that we have to fight against enemy groups in this fun game.
There is no story in the game. There are two groups of insects: green (good) and red (bad). Of course, it is not possible to determine who is really good and who is bad, because both sides are exactly the same, which clearly ridicules past wars between real people. At each level you have to capture all kinds of food that are available on the improvised battlefield. It could be burgers and fries that fell to the floor from the table, or a sandwich that someone forgot at a picnic, and other remnants of human food. To catch this food, which is needed to maintain the unit's life support, your insect must place its flag on it. Then the food is rightly considered yours, but remember that the enemy is not sleeping and, on the contrary, is trying to build his flag and remove yours. Obviously, this must not be allowed under any circumstances, and all attempts by the enemy to do so must be stopped immediately by light violence.
Game review
No review yet. We are working very hard to write one for you.
You can help us by writing some cool user review for this game.
User reviews
There are no reviews yet, be the first to review this game!