Asterix & Obelix
DOS game, 1996
Genre:

Year:

Developer:

Publisher:

Perspective:

Theme: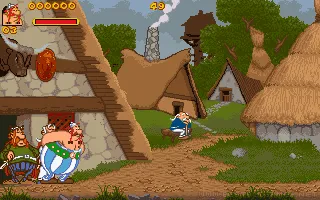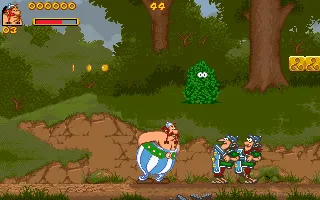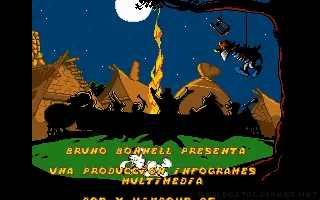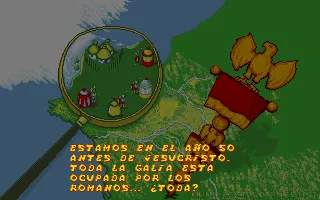 Journey back to the beloved world of the indomitable Gauls in the 1996 DOS game, Asterix & Obelix. This action-packed adventure captures the essence of the classic comic series, inviting players to step into the shoes of the famous duo as they embark on a quest to thwart the Romans. With vibrant graphics and faithful recreations of the comic's style, the game is a nostalgic trip to ancient Gaul.
In Asterix & Obelix, players alternate between the two titular characters, each with unique abilities. Asterix, with his quick agility and magical potion granting him superhuman strength, is ideal for defeating enemies and navigating obstacles. Obelix, with his immense strength (thanks to a childhood incident involving a cauldron of the magic potion), can smash through barriers and carry heavy objects. The game's levels are designed to leverage these abilities, offering a blend of puzzles, combat, and platforming challenges.
The game faithfully reproduces the humor and charm of the comics, with various familiar characters making appearances, adding to the immersive experience. Levels are set in different parts of the Roman Empire, each with distinct environments and challenges, mirroring the adventures in the comics. The gameplay is accompanied by a catchy soundtrack and sound effects that enhance the whimsical nature of the game.
Asterix & Obelix also offers cooperative gameplay, allowing two players to team up and take on the Romans together. This feature adds an extra layer of fun and strategy, as players must coordinate their actions and utilize the strengths of both characters. Whether played solo or with a friend, Asterix & Obelix provides a delightful and engaging experience, capturing the spirit of the comics and offering endless hours of entertainment.
Game review
No review yet. We are working very hard to write one for you.
You can help us by writing some cool user review for this game.
User reviews
There are no reviews yet, be the first to review this game!