The Amazing Spider-man
DOS game, 1990
Genre:

Year:

Developer:

Publisher:

Perspective:

Theme: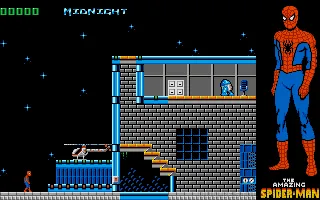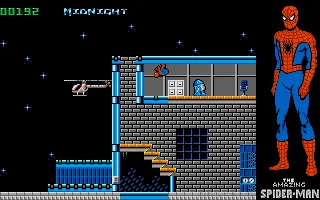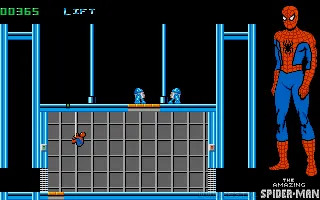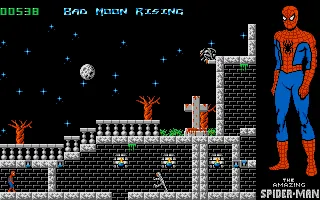 There are many comic book heroes, who has been inspiration for computer games, movies, TV series. Among the most famous and very popular is also Spiderman, which the game The Amazing Spider-man is dedicated to. Of course you play the hero - Spider-Man and your goal is to save your girlfriend - Mary Jane kidnapped by the evil Mysterio.
Game review
The Amazing Spider-man - such is the name of the game, as otherwise with the theme of perhaps the most famous comic in the world, which was long born in the head of its author - Stan Lee. Spidey is still a huge success and has a lot of fans, so it was only a matter of time before he got to the computer screens. It's been some Friday since the release of this game, but time certainly didn't hurt her. Well, in order.
Perhaps you all know the main characters of the comic, or in our case the game. Shy Peter Parker - a photojournalist in the role of a mysterious Spider-man, the charming Mary-Jane Watson, and what a superhero without a supernepower, Spidey has many, but in this case, the dreaded Mysteria. It's hard to confuse this guy - he's the one with the aquarium on his head. He used to do special effects for film studios, but because Spidey sent him behind bars, he didn't have a day to take revenge on Nesna. Mysterio uses various illusions, effects and tricks, which you will feel mainly in the various traps he prepared for you on the way to Mary-Jane. Yes, Mysterio stuck alive when he kidnapped her one night. All the facts suggest that Mysterio is hiding in Rockwell Studios to lure Spidey into a trap. But it wouldn't be Spiderman if it was to be thrown away by every Mystery trap.
If you expect to beat your enemies head on - head out, you're wrong. The main idea of ​​the game is to solve the process through the rooms - film trick studios. To do this, you use various levers with which they open - you close the door, lower various lasers, and all this makes this game quite a nice logical matter. One lever turns something on, turns it off, so you have to press them in a logical order. But the difficulty is well balanced, so there are no places where you will headlessly wander and look for an exit. On the other hand, it sometimes happened to me that I tore my hair when I had to go the same way for the fourth time.
Of course, your spider skills help you to overcome obstacles. Climbing walls, ceilings and how else you will definitely appreciate the swinging web. But some walls are "painted" with something, so you can't get caught there.
Some may not like the absence of saving positions, although there is a certain possibility of checkpoints. The graphics in the game are quite acceptable, everything is in the spirit of the comic. The game still does not provide space for any interesting graphic design, as it is in the style of a platformer. The music fits in style with the jingle, but I still wouldn't want to listen to it, because I turned it off and played a good music instead. The length of the game varies on a one-time level, so it will fill you one afternoon. Too bad, because once you go through the game, I don't know when you'll start it again. So in conclusion I would like to add that I don't know if the game would be so interesting without Spidey, but in any case, except for small shortcomings, it is very good fun for one or two days. 
Reviewed by

Anonym – 1. april 2014
User reviews
There are no reviews yet, be the first to review this game!