Witchaven
DOS game, 1995
Genre:

Year:

Developer:

Publisher:

Perspective:

Theme: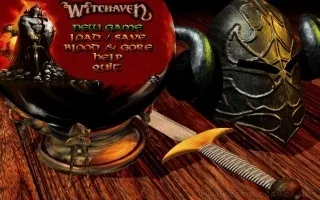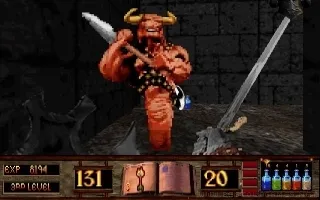 Forget the story or intro - it's here, but it won't tell you anything anyway. You will learn the story from the manual - the prophecy showed to beat 25 levels of monsters headed by a witch from another reality. That is all. The first thing that strikes you is quite disgusting graphics, and the environment is not very inspiring, just 25 levels of dungeons without some more interesting architecture. The inspiration at DOOM with all the torture chambers, the bodies on the wheels, the blood and the climbed intestines is obvious. The levels themselves are also classically doom-ish, meaning a huge maze that needs to be cleaned, find a few keys, get to the pentagram and bring it to the exit. But when you get into the game, you will find that instead of the fantasy Dooma (Heretic), it is only played for contact combat, so you have to cut monsters up close with swords, axes, and the like. You can shoot with a bow, but it is weak and inaccurate. In addition, weapons are worn out, so forget that you will find a magic sword and not let it go. In addition to weapons, you have potions to use (healing, vital fire protection, poison treatment), a few spells (fireball, magic missile, open door) that I didn't use much because cold steel is just cold steel.
Game review
No review yet. We are working very hard to write one for you.
You can help us by writing some cool user review for this game.
User reviews
There are no reviews yet, be the first to review this game!