Star Wars Chess
DOS game, 1993
Genre:

Year:

Developer:

Publisher:

Perspective:

Theme: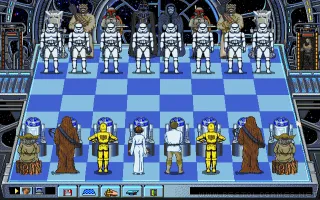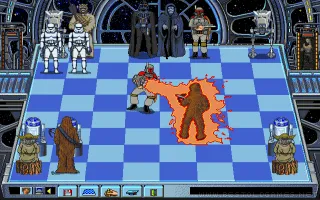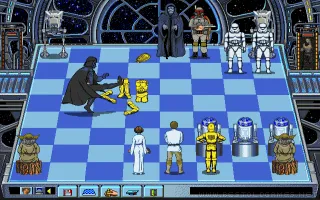 Star Wars is definitely one the most successful film saga in history, so no wonder it has inspired a number of computer games. The main genre of these games is mainly action, simulation and adventure, but in 1993 Software Toolworks created an unconventional Star Wars game: Star Wars Chess. As the name suggests, this is a chess where the figures are portrayed by a various characters from Star Wars. In total, there are 12 different characters available, that represent individual chess pieces. The rebels formed the white pieces: Luke and Leia, of course, as the King and Queen, C3PO is a bishop, Chewbaca Knight, Yoda is Rook and R2D2 portrays Pawn. Black pieces are characters of the Empire - Darth Vader is a Queen, Palpatine (Darth Sidious) portrays King, Boba Fett is a bishop, Tusken Raider is a Knight, chicken walker (AT-ST) as Rook and the Stormtroopers portray pawns. The game is very similar to the better known Battle Chess, fights are processed very similarly: the characters step away and look at effective combat with nice animation.
Game review
No review yet. We are working very hard to write one for you.
You can help us by writing some cool user review for this game.
User reviews
There are no reviews yet, be the first to review this game!