Loom
DOS game, 1990
Genre:

Year:

Developer:

Publisher:

Perspective:

Theme: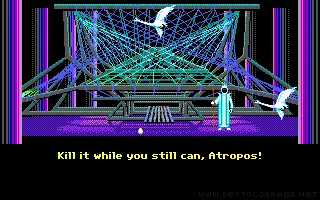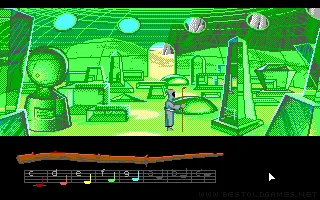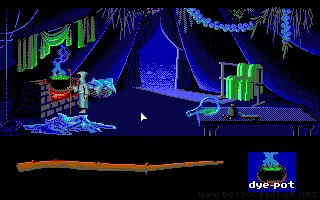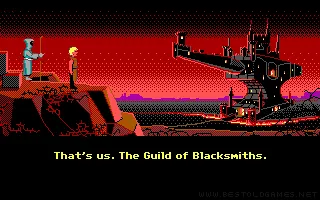 In 1990, the DOS gaming world was graced with a unique and enchanting adventure titled Loom, developed by Lucasfilm Games. Loom stood out in the realm of adventure games for its innovative gameplay mechanics and captivating storytelling, offering players a magical experience that was both refreshing and deeply engaging.
Loom unfolds in a beautifully crafted fantasy world, rich in lore and filled with vivid characters. The story centers around Bobbin Threadbare, a young member of the Weavers' Guild, who embarks on a journey of discovery and destiny. The narrative is masterfully woven, much like the tapestries that are central to the game's theme, leading players through a tale of magic, mystery, and transformation.
What sets Loom apart is its unique gameplay system, which eschews the traditional point-and-click interface for a music-based mechanic. Players cast spells by playing sequences of notes on a magical staff, each sequence or "draft" having different effects. This innovative approach to puzzle-solving is not only intuitive but also adds a lyrical quality to the gameplay, creating a harmonious blend of audio and visual elements.
The game's graphics are a testament to the artistry of the era, with beautifully rendered scenes and character designs that bring the world of Loom to life. The soundtrack, composed by George Sanger, complements the game's aesthetic perfectly, enhancing the mystical and ethereal atmosphere.
Loom is often praised for its accessibility to players of all skill levels, offering a gentler and more narrative-driven adventure compared to its contemporaries. Its enchanting story, combined with the innovative use of music as a gameplay element, makes Loom not just a game but a memorable experience that resonates with players long after they've completed the journey.
Game review
No review yet. We are working very hard to write one for you.
You can help us by writing some cool user review for this game.
User reviews
There are no reviews yet, be the first to review this game!