Chicken Invaders
Windows game, 2002
Genre:

Year:

Developer:

Publisher:

Perspective:

Theme: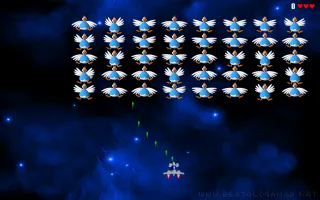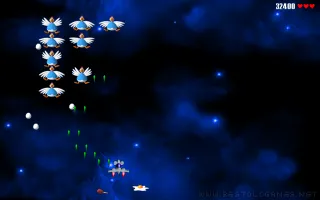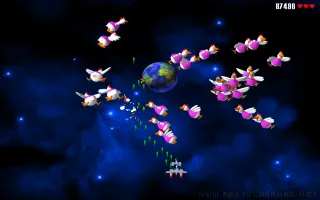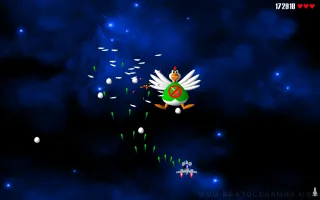 Chicken Invaders, released in 2002 for Windows, is an amusing and engaging arcade-style shoot 'em up game that humorously parodies the classic Space Invaders. In this game, players face an intergalactic battle against invading armies of chickens, intent on revenge against humanity for our oppression of their earthly kin.
The game's premise is simple yet captivating: players control a spaceship, fighting off waves of chickens and avoiding eggs and other projectiles thrown at them. The chickens descend in patterns, and the player must shoot them while dodging attacks. As players progress, they encounter various power-ups, such as different weapons and shields, enhancing their ship's capabilities.
Chicken Invaders stands out for its lighthearted approach to the shoot 'em up genre, combining traditional arcade-style gameplay with a humorous twist. The graphics are colorful and cartoonish, adding to the game's whimsical nature. The sound effects and music are equally entertaining, with clucking sounds and playful tunes accompanying the action.
The game offers several levels of increasing difficulty, each ending with a challenging boss fight. These bosses require strategy and quick reflexes to defeat, adding depth to the gameplay. Multiplayer mode allows players to join forces and tackle the chicken menace together, adding a cooperative element to the game.
Chicken Invaders is a delightful game that appeals to both casual gamers and those who appreciate the nostalgia of classic arcade games. Its blend of humor, engaging gameplay, and accessibility has earned it a special place in the hearts of many players.
Game review
No review yet. We are working very hard to write one for you.
You can help us by writing some cool user review for this game.
User reviews
There are no reviews yet, be the first to review this game!