Caveman Ugh-Lympics
DOS game, 1989
Genre:

Year:

Developer:

Publisher:

Perspective:

Theme: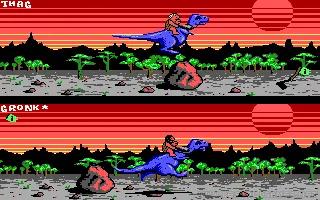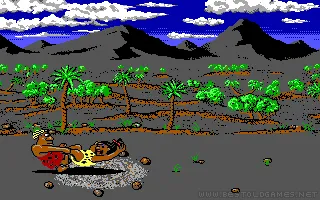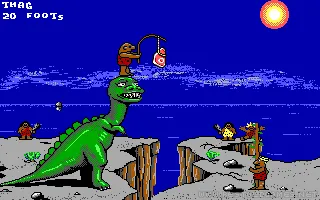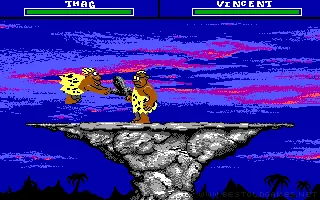 There are a few old games I remember the most from my childhood, among them, for example, the classic Winter Olympics (Winter Challenge), or prehistoric taxi driver (UGH!). Lately I have found that there is a sort of mix of these two games, named Caveman Ugh-Lympics. As I have already indicated, it is prehistoric Olympics and so are the discipline adapted to those times. Sabre race - an escape from the prehistoric sabre beast - run don't allow it to eat you; Mate Toss - like a real Neanderthal you will bring your girlfriend and try to toss her as far as possible; Firemaking - who is the fastest firemaker in the cave; Clubbing - standing on a rock and beating up the the opponent with a club; Dino Race - racing on dinosaurs; Dino Vault - pole vault over a dinosaur. The idea is really good, but what is worse are controls - the're awful. By using the keyboard you can use only arrows and enter, but some disciplines are really complicated. For a description of how to control the game, see the attached file _controls.txt
Game review
No review yet. We are working very hard to write one for you.
You can help us by writing some cool user review for this game.
User reviews
There are no reviews yet, be the first to review this game!