2 Fast 4 You: Das superheisse Bi-Fi Race
DOS game, 1995
Genre:

Year:

Developer:

Publisher:

Perspective:

Theme:

-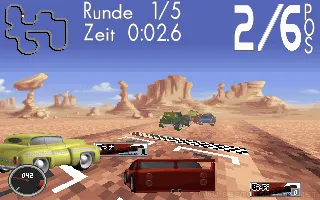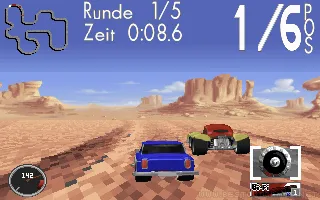 2 Fast 4 You (aka 2FAST4YOU) is a racing freeware created by order of the German company B-Fi, promoting its products. The game is a classic arcade reminiscent of the famous Wacky Wheels, where you race across the landscape in an attempt to achieve the best lap time. During the race, of course, you must not forget to collect Bi-Fi products lying around the track, such as mini-rolls, sausages and sausages.
You can choose from several cars with which you will race and the legendary Trabi / Trabant is not missing among them. Your computer opponents can stand on the starting grid with a Thunderbird, a Jeep, or a Bi-Fi car that resembles an old bug. You can also choose from several different competitions. The Adventure Cup takes you to natural circuits in the Grand Canyon or the jungle, the Fun Cup contains fun tracks and the Danger Cup takes you through an ice circuit, a desert and a volcanic island track.
Game review
No review yet. We are working very hard to write one for you.
You can help us by writing some cool user review for this game.
Comments
Below are the most recent comments. Discuss this game in our forum to see all of them.
To my mind, 2 Fast 4 You are all kinds of exotic cars that have doors that open up or something like that. I think it's too weird and pretentious. Beside, you can try play 1v1 lol game. It is also interesting
In our search for greater information we additionally searched for the critiques of different clients and wanted to understand whether or not or not their satisfaction Glucofort become we came throughout testimonials that have been all very Those who have been using the HeatWell for some time ought to buy it over again at any time and find that overall performance users are very enthusiastic about the gain of use and discover it extremely practical Many are happy with the the workmanship and are recommend the mini fan heater powerful used Many also take with them paintings, in which it heats up their workplace and consequently removes the want to use the ordinary heater many customers the opposite hand had been capable discover any bad reviewshttps://apnews.com/article/lifestyle-business-health-b31587e0e08c5232f74beb23ddbb9e7a
https://form.jotform.com/223130322493041
Hi all. Perhaps you were looking for a casino game for professionals? There are many games for professionals but if you can't decide or just want to know more about games for professionals I can advise you a site https://bollywood-casino.com/game/crazy-time-live/ where only experienced players with great experience play and there you can improve your game because this is the best casino of all, it is the choice of experienced players
User reviews
There are no reviews yet, be the first to review this game!