Teenagent
DOS game, 1995
Genre:

Year:

Developer:

Publisher:

Perspective:

Theme: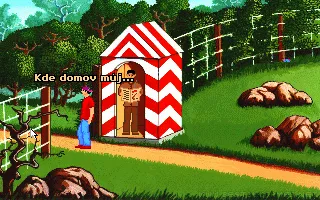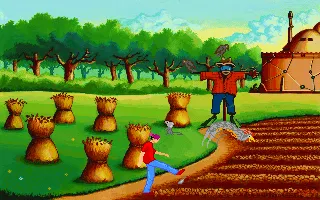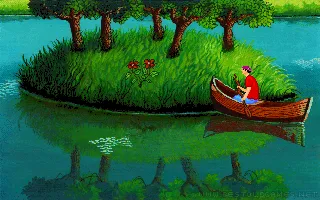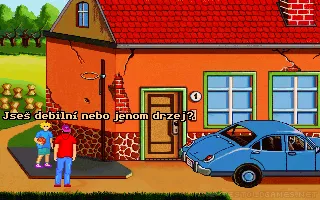 The year was 1995 and Polish companies managed to penetrate the whole world with their game - Teenagent was created. The plot revolves around the mysterious disappearance of gold from all banks. No official institution can handle the case, and it is therefore entrusted to the NGO Hurvínek's Salvation. The procedures of this would-be secret service are indeed non-traditional, and the clarity of the entrusted cases, which is around 0%, corresponds to this. The hired fortune teller points to the name in the Yellow Pages, to the name of the ELECTED, Kevin's name is Kevin Hoppes. He is the one who is supposed to help solve the case. Kevin enjoyed the normal life of a teenager (booze, whores and a bit of that speed hadn't killed anyone yet :) until two guys in brown coats came to see him.) At this point, Kevin becomes a top-secret agent!
Game review
One fine day, a couple of guys catch you and shove them in the car. You're the agent to handle it. This is how this great bomb adventure somehow begins.
You got into the role of a secret agent. Your task is to find out where all the money has disappeared from the bank. Um, since we've had agents like that, they'd be good ... um ... well. The gold just started to disappear and you are the one chosen !! Only and only you! Why you? You have just been selected from the phone book by one secret agency. The agency simply could not help itself at all. If you notice even today, various agencies call your house (whether it is a survey or it doesn't matter :)).
The game will first take you to a training camp, where your task is to train. There are some things to keep you entertained at the camp. For example, your trainer reminds me terribly of my gym professor (hello Mr. Rovňák :)), or you will find that you should not give medicines to birds :). I hope we understand each other;). You will also find yourself in a small town where a person is responsible for all this. You will even meet a "girl" you fall in love with and who has a very cool grandmother. Such from the 16th century. Later you will get to the house of the above mentioned gentleman. And I will also mention that the path to it will not be easy at all, but not at all. However, download and see. I've been playing this "how to get to the boss" location (that's my name:) for quite some time.
But let's move on to other things. For example, the graphics of the game. The game has such a very but very nice graphics, such a style a la INDY but a little like ours (perhaps we understand each other). Very nice animations. Probably the best hedgehog animation. But I won't tell you more, play and see. It's a little worse with sounds and music. They're such farts :) It doesn't sound like that, but it just sounds like that to me. And if you have a PC SPEAKER, God forbid. But still, let's face it, the game is a bit older.
In conclusion, I will mention that this game is with Poland. The game was translated into Czech (there is also an English version - the game is called Teen Agent). Its translation is done per unit. And I mean that deadly seriously. Just download, download, download! 
Reviewed by

Anonym – 1. april 2014
User reviews
There are no reviews yet, be the first to review this game!