Sport of Kings
DOS game, 1989
Genre:

Year:

Developer:

Publisher:

Perspective:

Theme: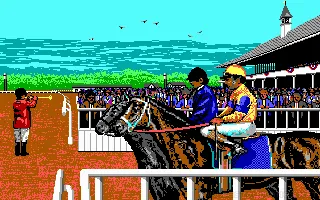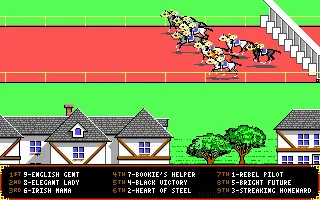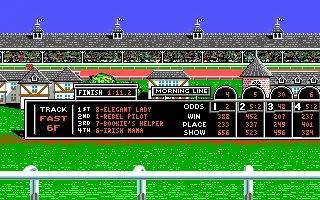 In 1989, the world of horse racing simulation galloped onto the DOS platform with Sport of Kings, also known as Omni-Play Horse Racing. This game, developed by DesignStar Consultants and published by MicroProse, offered a unique and detailed foray into the intricate and prestigious world of horse racing. Setting itself apart from the typical arcade-style sports games of its era, Sport of Kings catered to enthusiasts looking for a more strategic and management-oriented experience.
Players were thrust into the role of a horse owner, trainer, or jockey, each role presenting its own set of challenges and rewards. The game's depth was evident in its detailed simulation of various aspects of horse racing, including breeding, training, and racing strategies. The player's decisions in managing their stable of horses had a tangible impact on the outcomes of the races, making every choice significant.
Graphically, Sport of Kings was a product of its time, with a simple yet functional interface that prioritized utility over visual flair. The race sequences, though not graphically sophisticated by modern standards, were engaging, offering a top-down view that allowed players to monitor their horse's performance and adjust strategies mid-race.
One of the game's most notable features was its realism (for the time in 80s). The behavior of the horses and the variables affecting each race were meticulously simulated, providing a realistic and challenging experience. The game also included a variety of race tracks, each with its own characteristics and challenges.
However, the game's steep learning curve and complexity could be daunting for casual players. Its focus on management and strategy over action-oriented gameplay meant it appealed more to a niche audience.
In conclusion, Sport of Kings was an innovative and in-depth simulation for its time, offering a comprehensive and engaging experience for horse racing aficionados. Its focus on strategy and management, combined with realistic simulation aspects, made it a standout title in the sports simulation genre of the late 1980s.
Game review
No review yet. We are working very hard to write one for you.
You can help us by writing some cool user review for this game.
User reviews
There are no reviews yet, be the first to review this game!