Sonic Riders
Windows game, 2006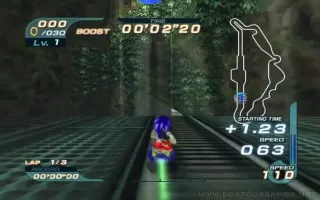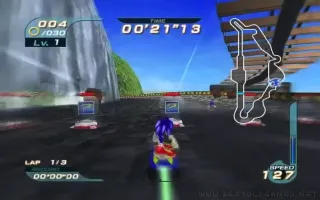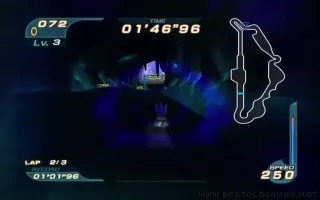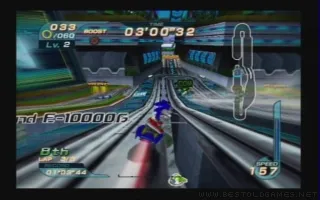 Sonic Riders, released in 2006 for Windows, is a high-speed departure from traditional Sonic gameplay, introducing a unique racing experience within the Sonic universe. Developed by Sonic Team and published by Sega, this game blends the franchise's iconic speed with futuristic hoverboard racing, offering a fresh perspective in the world of Sonic the Hedgehog.
Players race through various tracks, each bursting with vibrant colors and dynamic designs, true to the Sonic series' style. The game features a diverse roster of characters from the Sonic universe, each with unique abilities and customizable hoverboards, known as Extreme Gear. These boards add a strategic layer to the races, with different types enhancing speed, flight, or power.
The gameplay mixes high-speed racing and aerial tricks, with players needing to master drifts, jumps, and stunts to navigate through inventive courses. Rings collected during races can be used to upgrade Extreme Gear, allowing for increased performance and new abilities.
Sonic Riders also includes a range of modes such as the story-driven single-player campaign, where players uncover the motives behind the enigmatic new team, the Babylon Rogues, and a multiplayer mode for competitive racing.
While the game maintains the fast-paced excitement synonymous with Sonic, it also introduces a learning curve with its unique mechanics. The combination of racing and airborne maneuvers, along with track memorization and gear customization, offers both a challenge and a novel experience to Sonic fans and racing enthusiasts alike.
Game review
No review yet. We are working very hard to write one for you.
You can help us by writing some cool user review for this game.
User reviews
There are no reviews yet, be the first to review this game!