Quadrax
DOS game, 1996
Genre:

Year:

Developer:

Publisher:

Perspective:

Theme: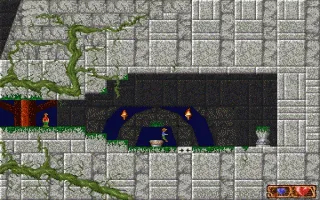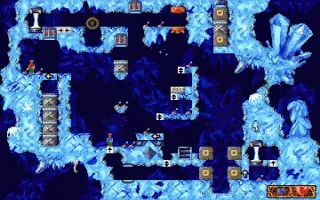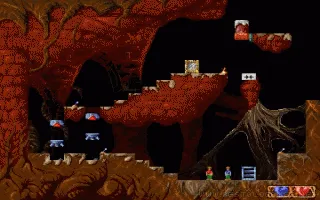 Story of this game is quite simple: someone had been lost and someone so someone went to search for him. Specifically, there is a Mike, who lost his brother and so he and his good friend Alex went on a trip to find the lost brother. The quest takes them to Egypt, where they manage to almost die, but manage to survive and they also find the Sun Temple. Although they know they may never retunr, they decide to enter the metal door, enter the temple, so they find themselves in the first round of the game and now it's up to you if they manage to survive. Quadrax is an excellent puzzle game where you control two characters (as I mentioned earlier, friends Mike and Alex) and solve various puzzles. The objective of each round is to get both characters to platform marked with arrows. In your way there are many obstacles, so you must use various stones, switches, teleporters, and many other objects to overcome all of them and survive over 80 levels.
Game review
Classic theme. Some are lost, some go looking for him and everything is governed by a single rule. Never say that something is not working, there is always someone who does not know and will do it. So your task is to penetrate such a fairly high tower (I wonder how it can hold at all ...) Of course, hafo other people have already tried it, but classically no one returned. So much for a start. Otherwise, this whole thing will be explained by a relatively solidly processed intro. And let's not forget, the point of the story is a kind of sun goddess ....
After playing the intra, enter the tower and your first tasks. you control two characters and the goal is to get to the designated place (converging arrows) Of course you will not just go on the plane and without obstacles, ha ha. Even in the first room, almost yes. But some rooms of dough under the top can nicely tease the gray cortex. Only if your two characters help each other can you survive. You will come across stone blocks, elevators, various switches, sliding platforms and trapdoors. A logical combination of lots of options will either take you to the end of the level or use a restart. Often nothing else is left, because you just get into a hopeless situation. but I do not think critically, on the contrary. It's entirely up to you how you move.
And what more? of course something else. You can also play in two and each control one character. So you can move at the same time. You move alternately in the singleplazer. I admit that I haven't tried it much, because if you can tell how the pipe next to you can't ... I would say average for the graphic design. After a successful intro, I would expect a little more, but it's about logic games and clarity above all. Nothing peeks or flashes on you anywhere, you can think calmly how to move with those two idiots ... But you will also apply observation and quick decision-making, so it's not so calm.
Quite a fun game, reminiscent of many similar games, yet it's no copy. It is important at the beginning of the game to choose the ideal control for you. I consider this a big plus for the game. 
Reviewed by

Anonym – 1. april 2014
User reviews
There are no reviews yet, be the first to review this game!