Mad TV
DOS game, 1991
Genre:

Year:

Developer:

Publisher:

Perspective:

Theme: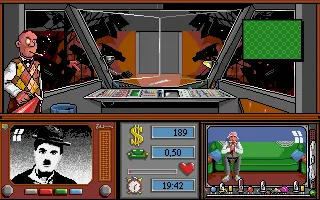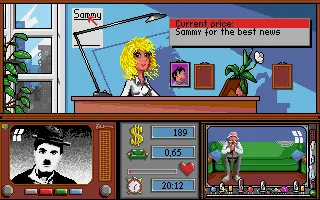 Are you tired already to watch the same things in TV every day? Would you like to create your own program, that you would like? If so, sit up, because thanks to Mad TV, you can be a small part of it and help to form a new program structure in one declining TV station. Watching the intro, you will get a feeling, that this is going to be a fun game with a great music. The storyline is quite original: your main character is hopelessly in love with a girl - Betty, a moderator in a local television station, where she has her own program about culture. Of course, you go to the TV station immediately, so you can speak to her, but at the place you'll get a surprise. Without you looking for something, boooom and you have a new job and not just a regular job, but you are the new CEO of the company. Will now take the place after your predecessor, who wanted to expand the TV station on Mars, which almost led to the bancrupt of the station. Now you must save the TV and get the admiration of Betty.
Game review
Are you tired of watching TV as they keep repeating the same thing? Would you like to put together a program according to your ideas? If so, pay attention, because thanks to MAD TV you can realize a small part of it and help with your program selection of one declining TV at least in a virtual form. It is already known from the inside that the game will excel both with its picturesque VGA jacket and with a great musical backdrop. There will be no shortage of humor, in fact, you can come across something funny everywhere :).
The story of the game is simple, your main character falls hopelessly in love with a girl (Betty) who hosts her own culture show on a local TV station. Of course, you go to that station immediately, you will be surprised on the spot without looking for anything. , boom him and you have a new job (then it's hard to get a job), he will now take your place after his predecessor, who wanted to expand the scope of television to Mars (he would almost succeed if he didn't mistake him for flying up instead down, well, let the earth be light for him) and gain the admiration of his chosen ones.
There was enough sauce and bullshit around, now we finally get to the game itself. We have the TV before the crash, the girl of your dreams who doesn't even know about you yet, and two competing TVs. The most important thing will be to stabilize the TV a bit as soon as possible and income, so, you are in charge of the program every day from 18:00 to 00: 00, the selection and location of programs depends entirely on you and the status of your account. You can choose movies and series from all genres, mostly movies, which were actually shot (so you can include a superman in the program). Each film and series, of course, has a different popularity, and critics can help you estimate its viewership. You can repeat the show indefinitely, but in truth, you would they probably didn't look for the tenth time either, did they? On the other hand, if you repeat with a sufficient time interval, you can save clouds of money. News, which is broadcast every hour before the start of each show, becomes a very losing factor. and several times a day) change and thousands of dollars are lost in sight.But we can not just lose money, can we? Among the show and news you have the option to include advertising, you can choose from a wide range, each with its own criteria, such as a minimum number of followers viewers, genre placements, and the number of ads aired, when you do all this, the money is yours.
There are a few other activities in the game, such as shooting fun and knowledge shows, where you buy a theme first, then decoration and finally a performer, it's a very expensive affair, so it's better to do it when you're financially secure. very important location of the new transmitter, the number of viewers will increase rapidly.
And now what about Betty. It's no fun to win her admiration. You will have to include programs that will be closest to Betty, especially about culture, but they are not particularly popular with viewers. So pay for the prime time it is not very good with lifeless nonsense, God forbid, if you bang her own show there, which always has zero viewership (I don't really know what makes it so terrible there), you can really go throw a bow. You will have to choose a compromise, otherwise you will in a moment broke.
There are several rooms around the building, which are used only for laughing, for example, such a security guard on the ground floor will definitely remind you of someone, such psychiatry is not bad either, anyway, we will probably all end up there :).
To sum it all up, this game is absolutely exceptional in its idea and concept, I have always enjoyed it and still enjoy it today, you will hardly find a similar game and if for any reason you don't enjoy the game, you won't give anything to try. 
Reviewed by

Anonym – 1. april 2014
User reviews
There are no reviews yet, be the first to review this game!