Home Alone
DOS game, 1991
Genre:

Year:

Developer:

Publisher:

Perspective:

Theme: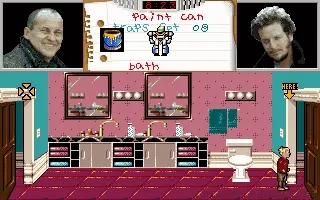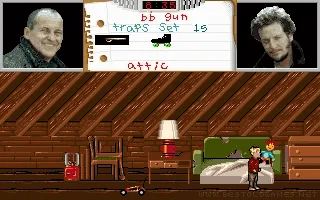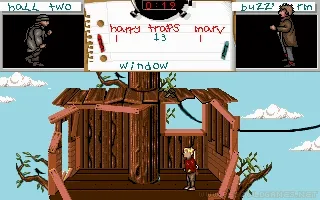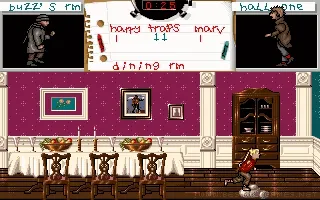 When I say Home alone, I have no doubt that I have to say no more. Even if you don't know the movie, just wait for Christmas and it certainly will be aired on TV. The story is completely identical to that film: McCallister family is going on holiday for Christmas and in the morning rush they forget one little thing: their youngest son, Kevin. At first, he is very happy, but eventually, he discovers that two burglars (Harry and Marv) are planing to rob the house. He decides he has to defend the house by all means and so he prepares various traps. You are the one, who has to prepare these traps in the role of Kevin and you have only 60 minutes to do so.
Game review
When I say at home alone, I have no doubt that I don't have to explain anything at length. I have personally seen both films of this name countless. However, if by pure chance someone doesn't know "what the hell is going on here", let them wait for Christmas. But because they are far away, I will briefly explain the principle. The story revolves around a situation where parents go on Christmas holidays (bastards forgotten) and forget about one of their branches at home (idiots…). After the initial joy, she slowly discovers that robbers are preparing for their house. It's a comedy because, thanks to his wit, Kevin (that's the brat) prepares himself for the robbers in a really original way.
The game is a complete transformation of the film into a playable form of setting traps and then facing the famous amateur thieves. All of Kevin's ideas visible in the film master appear here, as does the interior of the entire house. Setting traps is not difficult. When you pass an object that can be used to set a trap, it starts flashing and you simply lift it with one key (F1). You will immediately see in an imaginative way the places where this thing can be set. To do this, press the second key (F3).
To prepare, you have a total of an hour of game time, which is displayed on the top information bar in the form of a clock. There's nothing left over, so you have to throw yourself. After knocking ninth, Harry and Marv pounce on you uncompromisingly, and it's up to you what tactics you choose. If you sew somewhere, you won't help much, because they always know about your position and choose the shortest path around the house accordingly. In addition, they are careful, so they don't just get removed by something.
It is better to choose a tight escape from them, sweeping every trap. But you must be careful not to destroy your traps by touching them. You can also use the pipes to transport the laundry to the cellar. When you manage to get Harry and Marv into a trap every ten, the game ends in victory. On the other hand, they must not catch you, otherwise they will do a short process with you.
You will definitely not play this game for the first time, because training is more than necessary. There can also be no question of extra large gameplay, but I recommend playing it as a supplement to the film. In terms of graphics, the game does not deviate from the quality of other games from this time. The sounds are just Pcspeakers and they would rather not put music here -> it would disturb the atmosphere.
Verdict: At the time it was created, the game is a very good translation from a film master. Fans at home should definitely not miss it.
Reviewed by

Anonym – 1. april 2014
User reviews
There are no reviews yet, be the first to review this game!