Heroes of Might and Magic
DOS game, 1995
Genre:

Year:

Developer:

Publisher:

Perspective:

Theme: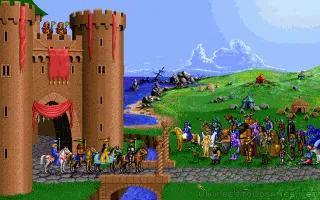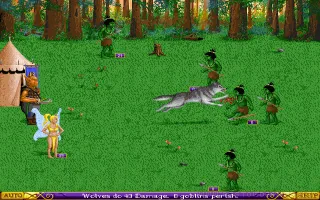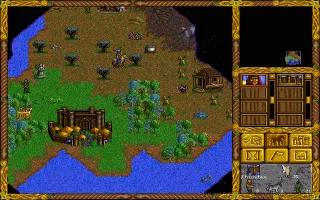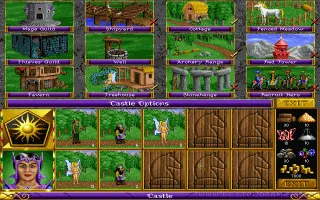 You are wandering with your heroes around the world, who are one of the most fundamental parts of your success or failure. Using them entering into battle, collect the world of multiple raw images mines, you get them for artifacts enhancing their skills or you're looking for a hidden treasure that can be found with the help from the obelisks. But even a great hero can not handle everything alone and you must recruit fighters to be able to attack and defend your castles from your enemies.
Game review
First of all, I would like to point out that if you can't start the game and the game gives you a message that it requires a CD, then the problem is that you have to mount your CD-ROM drive in dosbox or D-fend, in D-fend creating a game profile in the third step add mount and set it as cdrom with your drive, in dosbox you have to write the command "mount D –t cdrom D: " (without quotes), where D is the letter of your CD-ROM drive.

Where are the times when we were able to go to the picturesque and rich country of Erathia for the first time. And when I say rich, I don't just mean gold and precious stones, but also a diverse landscape and its inhabitants, which are definitely not few. So let's take a look at what Erathia offers us. The principle of the game, no matter how difficult it may seem at first, you will find after a while of playing that the opposite is true. The game can be divided into three areas: moving around the world, battles and castle management.
You move around the world with your heroes, who are one of the most basic building blocks of your success or failure. You use them to enter battles, collect raw materials scattered around the world, occupy mines, obtain artifacts that increase their abilities, or perhaps look for a hidden treasure that can be found with the help of obelisks. However, even a hero can't do everything on his own, you have to hire warriors in your castles (over time it may seem to you that one of the castles is a bit better when it comes to choosing warriors, unfortunately it's true, it's hard to then the castles were leveled) so that you could scatter or repel your enemies. Although you only have four different castles with your sets of warriors divided into several stages, the selection is still varied enough. Those few levels mean that the fighters are not as strong, for example 30 first-level fighters can be as strong as one of the best.
When you encounter a neutral army, you have little chance of joining you and fighting under your command. If this does not happen or you encounter an enemy hero, it will switch to a new screen. Here, too, everything goes as if on the world screen, that is, in strokes. You gradually move with your charges on the battlefield and you can support them with the spells of your hero. There are many possibilities and it is not always the case that a stronger army must win, with good tactics you can do wonders.
The game is really diverse and describing all the principles and options would take a few pages, so just in a nutshell. In the menu you have the option to choose either a campaign or one scenario, the campaign is nothing but a pre-set sequence of scenarios accompanied by a simple story, you can set nothing but a castle (nation), on the contrary you can set opponents and difficulty you feel (very don't overdo it :). As for the graphics, I would expect something better for 1995, especially in terms of processing the fights, the graphics of the fights and effects are absolutely terrible, I have no great remarks about the castle or the world, but there is no glory either.
You will either lose this game the first time you play or you will spend countless hours with it, nothing in between and if you have already played a newer part of this series, do not turn your nose over the fact that this one is old, because there is something different in each, even if the principle remains preserved. 
Reviewed by

Anonym – 1. april 2014
User reviews
There are no reviews yet, be the first to review this game!