Donkey Kong
DOS game, 1981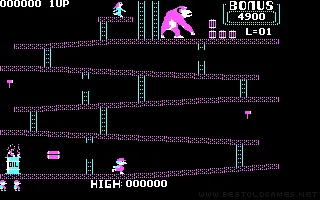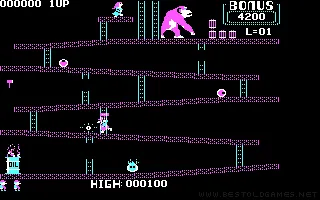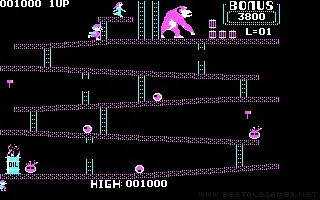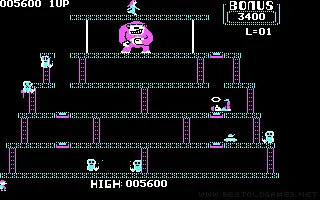 The game Donkey Kong was a major breakthrough in the gaming world: it was the first game that has become an absolute hit for Nintendo and it has also introduced two, now a very known characters: Donkey Kong and Mario (Mario was originally known as "Jumpman"). You take a role of Mario and Donkey Kong is your archenemy, who kidnapped your beloved one. You have to save her, but it will not be so easy: your enemy will be throwing the tank barrels in your way, you must avoid these or jump over them. Gradually, you have to climb up the ladder and be careful to not fall. Even just fall from one floor means loss of life. Every next level things get more and more complicated, you have to face new enemies and obstacles are harder to overcome. You can also find bonus items that may help you on your way up (for example a hammer, that can smash barrels and enemies).
Game review
No review yet. We are working very hard to write one for you.
You can help us by writing some cool user review for this game.
Comments
Below are the most recent comments. Discuss this game in our forum to see all of them.
Helping you make profits daily in Forex trading
Using our signals and trading tool https://fnforex1.com/
ABOUT US: FNFOREX LTD a team of professional and successful traders with more than 6 years' experience trading on the foreign exchange market to help retail traders makes profits daily in the financial market https://fnforex1.com/about-us/
OUR SER SERVICE TO HELP YOU MAKE PROFTS DAILY https://fnforex1.com/services/
OUR SIGNAL HISTORY https://fnforex1.com/signal-history/
CONTACT US https://fnforex1.com/contact/
ABOUT US: FNFOREX is a professional forex trader with over 5 years of experience trading the foreign exchange market. Presently teaching forex, programming of forex robots and indicators. We scan the markets 24/7 every single day
I thoroughly enjoyed revisiting the classic Donkey Kong storyview instagram. It's a timeless game that has left a lasting impact on gaming history. The challenges, memorable characters, and iconic gameplay make it a must-play for both nostalgia seekers and new gamers alike.
User reviews
There are no reviews yet, be the first to review this game!