Capitalism
DOS game, 1995
Genre:

Year:

Developer:

Publisher:

Perspective:

Theme: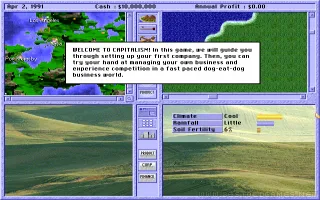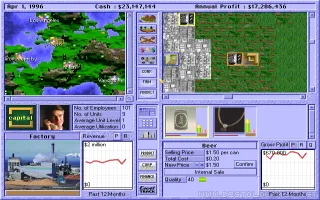 Are you thinking about starting your own business? Nowadays, it is not so easy, only if you could give it a try without risking anything. You can do exactly that in the game Capitalism - you set up a new business and your goal is to make it profitable. When you win in this game, you will also be able to do business in real life, right? :) In the game you start as a young man who has an extra $10mil and instead of resting on the beach he decides to invest his money in the new company. Buy land, build a mall and of course some farm and factory, so you have something to sell. Once you have finished all these things, you will find that your technology is already obsolete, the raw materials you import are poor or overpriced. Therefore, it is necessary to set up a research institute, hire top scientists, build your own wells for the extraction of raw materials. And you will not have enough of money for everything, so you have to borrow from the bank and there is a good start. In addition to properly set up production options, you have to set the price of the products sold correctly to make them competitive and at the same time to make a profit. You can see for yourself  that you have to take care of a lot of things in the game before the company became profitable. If you do, you get into the game principles, I believe you will have fun for long weeks, or maybe even months.
Game review
No review yet. We are working very hard to write one for you.
You can help us by writing some cool user review for this game.
Comments
Below are the most recent comments. Discuss this game in our forum to see all of them.
Trying this game out for the first time. Game wouldn't run (keeps asking you to load the game CD first). Found the following instructions, which let me start the game at least. The drive & game folder mentioned below is where ever you extracted the files. A DOS name will be truncated to 8 characters, probably CAPITALI, upon extraction.

You have to mount the game folder to C:
mount c: d:\games\capitalism

Then you have to mount the same game folder to another drive, but as type of cdrom
mount h: d:\games\capitalism -t cdrom -ioctl

Then you have to change drive to the C drive you mounted
c:

Then launch the game
capmain
User reviews
There are no reviews yet, be the first to review this game!