Call of Duty
DOS game, 2003
Genre:

Year:

Developer:

Publisher:

Perspective:

Theme: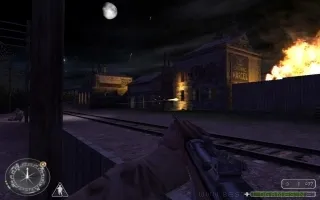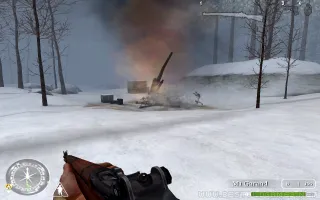 Once in a while there is a game that defines new genre and bring you new game play style. One of these games is Call of Duty - a first-person shooter set during World War II and the first title in a long-running series. In the game you experience the battle in Europe during World War II in different campaigns divided further into missions. There is an American, a British and a Soviet campaign as well, each focusing on different parts of the battle. In total there are 24 interconnected missions to play to get to Berlin. In each campaign a different perspective is offered, starting as an American Paratrooper during D-Day, progressing to assume the role as an English Special Forces commando, and finally as a Russian tank commander. Some missions are played in solitary fashion, but in most of them the player is part of a larger group with computer-controlled team mates.
Game review
No review yet. We are working very hard to write one for you.
You can help us by writing some cool user review for this game.
Comments
Below are the most recent comments. Discuss this game in our forum to see all of them.
Hello,

Recently I have started to play this game on my Windows 10 PC. The first few days I was played well, there was no problem during playing the game. But since yesterday night I have been having a problem while playing the game. After a few minutes of the game play, my computer starts crashing and sometimes it got frozen.

Sometimes this kind of issue happen due to low configuration of the PC. But my PC's configuration is fine. I have no doubt with this. Then I dont understand what could be the issue. Could anyone please provide me some solution that might help to solve the issue? Thanks in advance.
I still don't quite understand how to play and how to easily pass rounds tanuki sunset. It's hard for me


User reviews
There are no reviews yet, be the first to review this game!