Boppin'
DOS game, 1994
Genre:

Year:

Developer:

Publisher:

Perspective:

Theme: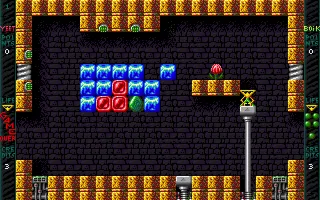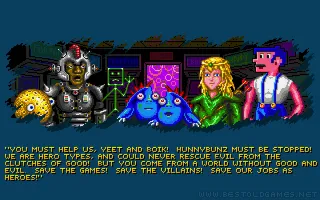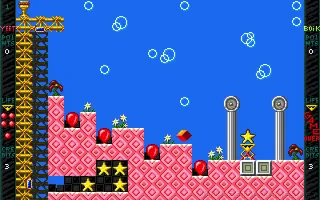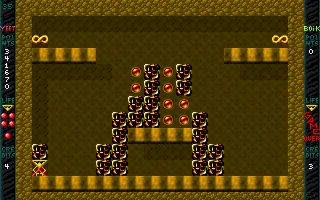 A really great hybrid puzzle / arcade game and definitely one of the most underrated games of this genre. The plot is as follows: a certain group of creatures has captivated all the famous villains from video games, and now only funny creatures with triangular heads can save them. You play as a video game character named Boik and Yeet, who discovers that Sweety Hunnybunz is behind it all, catching and imprisoning all the negative game characters. He wants to rid the world of all evil and unclean, and games are the first to hit. Yeet and Boik must not only free the captured characters, but confront Hunnybunz, his wife and son Oops. The goal is to remove all blocks of different colors and shapes in a level. The player moves through the level and throws blocks at the 45 degree angle, which are generated on the teleport. It must hit correctly and when a combination of two or more blocks of the same color is reached, they will disappear. If a combination of a square or a cross can be achieved, the result is the rescue of one game character. The number of wrong throws is limited, if a block is generated that cannot be used, the player can get a new one for 20 points.
Game review
No review yet. We are working very hard to write one for you.
You can help us by writing some cool user review for this game.
Comments
Below are the most recent comments. Discuss this game in our forum to see all of them.
Whether you're relocating to a different state or sending a vehicle for a sale or repair, there are several options available to transport your car safely across the country. Here are some popular methods for transporting cars in the USA https://www.youtube.com/watch?v=C36oy5VLMfk
User reviews
There are no reviews yet, be the first to review this game!