Harry Potter and the Sorcerer's Stone
Windows hra, 2001
Žáner:

Rok:

Výrobca:

Distribútor:

Perspektíva:

Téma: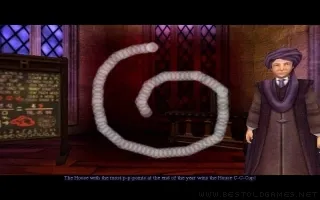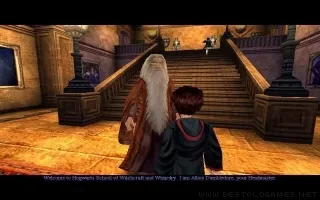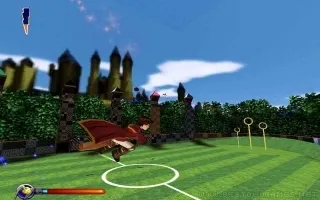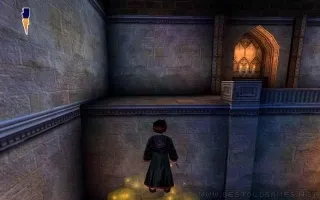 Harry je jednoduchý chlapec, sirota ktorej rodičov zabili a jeho položili pred dvere jeho nových rodičov. Postupne ako chlapec rastie zisťuje, že nie je obyčajný a že má nejaké zvláštne schopnosti. Nevie prečo, ani ako, ale zapne mu keď prichádza pozvánka do Hogwardovej školy čarodejníkov. Rozhodne sa prijať a odcestovať do školy. Vtedy sa dostávate do hry vy a necháte sa viesť pre vás zatiaľ neznámym svetom kúziel.
Hneď ako sa dostanete do školy získavate si priateľov a nepriateľov a zisťujete že škola je rozdelená na dve časti dobrých a zlých. Vy sa dostávate medzi tých dobrých a postupne si u nich svojou šikovnosťou získavate rešpekt a obdiv. Prechádzate hodinami kúzlenia, od jednoduchého posúvania predmetov, cez odomykanie zámkov kúzlami, levitovanie, zmenšovanie vecí, oživovanie vecí až po lietanie na metle. Každá hodina má v sebe rozsiahle bludisko miestností v ktorých musíte kúzlo používať, hľadať magické hviezdy a magické karty a pritom zbierať nejaké kryštály. Čo sa týka prekážok, väčšinou sú to kombinácie šikovnosti a logiky, kde musíte niečo postláčať a potom preskákať pričom si musíte dávať pozor na nepriateľských duchov, gigantických obrov, alebo nebezpečné rastliny. Teda aby som to niekam zaradil celé je to taká arkádovitá akcia, podfarbená príbehom, humorom, kúzlami a nebezpečenstvom.
Recenzia hry
Nie je tu zatiaľ žiadna recenzia! Pracujeme veľmi tvrdo na tom, aby sme pridali recenzie ku každej hre. Môžete nám pomôcť pridaním užívateľskej recenzie k tejto hre.
Používateľské recenzie
Nie sú tu zatiaľ žiadne recenzie, buď prvý, kto pridá recenziu na túto hru!
Prosím, zaregistrujte sa alebo sa prihláste na pridanie recenzie!
Extra
Žiadne extra informácie. Zatiaľ!