Hugo's House of Horrors
DOS hra, 1990
Žáner:

Rok:

Výrobca:

Distribútor:

Perspektíva:

Téma: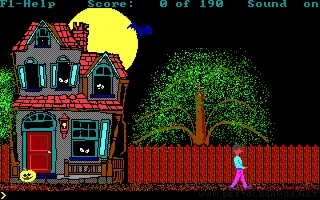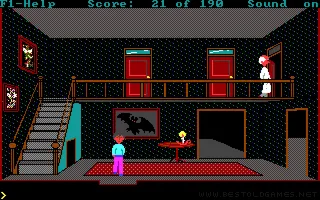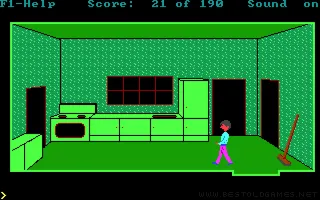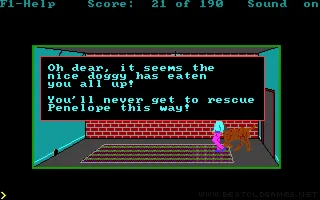 Pripravte sa na toto zábavné dobrodružstvo! Hugo je obyčajný chlapec s obyčajným dievčaťom. Avšak, jeden deň chodia strážiť deti. Možno to nie je divné, ale ona stráži dieťa v dome, kde straší! Teraz sa stanete Hugom, ustaraným priateľom, ktorý musí zachrániť svoju krásnu priateľku zo strašidelného domu. Štýl hry vám pripomenie Sierra adventures. Dávajte pozor na všetko okolo vás a uistite sa, že túto hru úspešne dokončíte. Ide o adventúru, ktorú ovládate pomocou príkazu. Tak aspoň pár radov ako začať: začínate pred domom, choďte k tekvici a vezmi ju ("pick up pumpkin") a otvor ju ("open pumpkin") [alternatívne môžete tekvicu rozkopnúť ("kick pumpkin")] , vypadne z nej kľúč , Ktorý vezmi ("pick up key"),... Ďalej to už nechám na Vás.
Recenzia hry
Nie je tu zatiaľ žiadna recenzia! Pracujeme veľmi tvrdo na tom, aby sme pridali recenzie ku každej hre. Môžete nám pomôcť pridaním užívateľskej recenzie k tejto hre.
Používateľské recenzie
Nie sú tu zatiaľ žiadne recenzie, buď prvý, kto pridá recenziu na túto hru!
Prosím, zaregistrujte sa alebo sa prihláste na pridanie recenzie!
Extra
Žiadne extra informácie. Zatiaľ!